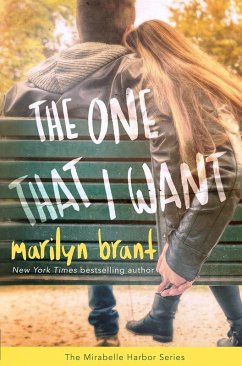 Geräte: eReader

mit Kopierschutz

Größe: 0.45MB

FamilySharing(5)
The summer after her beloved husband died in a car accident, Julia Meriwether Crane is still picking up the pieces of her life in Mirabelle Harbor and trying to help her ten-year-old daughter adjust to this difficult new reality.
After her best friend Sharlene-one of the well-connected Michaelsen siblings-talks her into finally going out on the town again, Julia finds herself stunned to be the object of interest of several different men: The boy who'd broken her heart back in high school. The college ex she'd left behind. And most surprising of all, the movie actor she'd always fantasized about but had never met in person...until now. Can one woman have more than one "great love" in the same lifetime? And, if so, how can she be sure which man that'll be?
Sometimes the person you think will be best for you isn't the one you really want. THE ONE THAT I WANT, a Mirabelle Harbor story.
Books in the Series:TAKE A CHANCE ON ME (July 2015)THE ONE THAT I WANT (July 2015)YOU GIVE LOVE A BAD NAME (Coming Soon)STRANGER ON THE SHORE (Coming Soon)~*~ Story Excerpt:With the exception of my best friend Sharlene, the others had gone back to their conversations so, thankfully, I didn't have too many people witnessing my fumbles with setting up a (sort-of) date for the first time in 12 years. It was awkward, but I agreed to coffee with my old high-school boyfriend and gave Kristopher my phone number, which he dutifully punched into his cell so we could arrange a time to meet.
Shar nudged me when he wasn't looking and whispered, "See? Not so hard, is it?"
I made a face and shrugged.
Finally, the party was beginning to break up. I was mentally congratulating myself on making it through the evening when Elsie wolf whistled. "Wait, people!"
Everyone halted.
"I've been wanting to tell you this good news all night." She paused. "You know my friend Rosemary, who works at the Knightsbridge Theater in the city, right?"
Most of the group nodded.
"There's a dress rehearsal for their summer production, 'The Bachelor Pad,' this Thursday evening, in advance of next Friday's Opening Night," Elsie said. "Rosemary reserved a block of seats for us."
Despite the noise in the wine bar, an audible spike in sound came on the heels of those words. A couple of the women actually squealed.
I squinted at them. Tickets to a play were always nice, but wasn't this taking theatrical enthusiasm a bit far?
"But that's not all," Elsie continued. "Rosemary also got us passes to meet the cast, just as she did for that steampunk musical last year-"
"Steampunk musical?" I hissed in Shar's ear.
She nodded. "It was bizarre. Tell you more later."
I grinned and brought my glass of wine to my lips, draining it of its final swallow.
"-including a special Q&A session," Elsie added, "with the star of the show, Dane Tyler."
I choked on the last drops of Merlot.
"Are you okay?" Elsie asked.
I gulped down half the water. Oh, God. Of all the actors on the planet-Dane Tyler. Here? REALLY?
My teen world had just materialized out of thin air. My gut twisted weirdly, and I could barely breathe. "P-Please go on," I managed to whisper.
---
Dieser Download kann aus rechtlichen Gründen nur mit Rechnungsadresse in A, B, CY, CZ, D, DK, EW, E, FIN, F, GR, H, IRL, I, LT, L, LR, M, NL, PL, P, R, S, SLO, SK ausgeliefert werden.