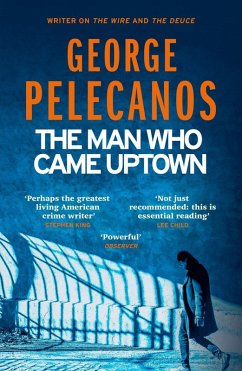 Geräte: eReader

mit Kopierschutz

Größe: 0.95MB

FamilySharing(5)
Andere Kunden interessierten sich
auch
für
THE WIRE
and
THE DEUCE
comes one of the most critically-acclaimed crime novels of the year:
'He is, quite simply, among America's finest crime writers. This latest story does not disappoint ... lyrical, beautifully observed and constantly surprising, it is a delight' Daily Mail
'In his first novel for five years, Pelecanos demonstrates why he deserves to be regarded as one of the best American crime novelists ... It's a moving tale, beautifully told' The Times* * * * *Anna Byrne
is a jailhouse librarian. In a place where hope is hard to find, the power of books can be a light in the dark. For some of the prisoners, her work is life-changing.
Like
Michael Hudson
, her best student, who's been locked up awaiting trial before his sudden release. He's relieved to be free - to 'come uptown', as they say - but can't shake the question: why is the witness who put him behind bars is suddenly refusing to testify? There's a man who might have the answer, but he wants something first.
Phil Ornazian
is a private investigator who moonlights as a petty criminal. He's not exactly proud of it, but times are hard in Washington, D.C. People have to change to survive, or die trying.
But everything comes at a price and, at some point, everyone has to pay...* * * * *Praise for George Pelecanos:
'Perhaps the greatest living American crime writer'
Stephen King
'Outstanding'
Sunday Telegraph
'Powerful'
Observer
'American crime writing at its finest'
Independent on Sunday
'Terrific'
Elmore Leonard
'Powerful'
Michael Connelly
'I love the way he writes: economical, rhythmic, elliptical and angrily political'
Val McDermid
'Hard-boiled fiction with heart'
Sunday Telegraph
'Pelecanos has joined James Lee Burke and Lawrence Block at the high table of contemporary crime greats'
The Times
'The coolest writer in America'
GQ
'Gold-standard character-driven crime writing that few will ever match'
Financial Times
---
Dieser Download kann aus rechtlichen Gründen nur mit Rechnungsadresse in A, B, BG, CY, CZ, D, DK, EW, E, FIN, F, GR, HR, H, IRL, I, LT, L, LR, M, NL, PL, P, R, S, SLO, SK ausgeliefert werden.