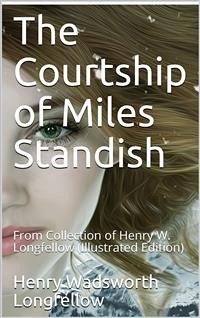 Geräte: PC

ohne Kopierschutz

Größe: 1.19MB


The Courtship of Miles Standish is set in the year 1621 against the backdrop of a fierce Indian war and focuses on a love triangle among three Mayflower passengers: Miles Standish, Priscilla Mullins, and John Alden. Longfellow claimed that the story was true, but the historical evidence is inconclusive. The ballad was very popular in nineteenth-century America. Standish is memorialized in a low relief sculpture of six characters from Longfellow's epic poems executed by Daniel Chester French and installed at Longfellow Park, in Cambridge, Massachusetts, located in front of Longefellow's former home, now a U.S. National Historic site maintained by the National Park Service.

The poem was a literary counterpoint to Longfellow's earlier Evangeline (1847), the tragic tale of a woman whose lover disappears during the deportation of the Acadian people in 1755. Together, Evangeline and The Courtship of Miles Standish captured the bittersweet quality of America's colonial era. However, the plot of The Courtship of Miles Standish deliberately varies in emotional tone, unlike the steady tragedy of Longfellow's Evangeline. The Pilgrims grimly battle against disease and Indians, but are also obsessed with an eccentric love triangle, creating a curious mix of drama and comedy. Bumbling, feuding roommates Miles Standish and John Alden vie for the affections of the beautiful Priscilla Mullins, who slyly tweaks the noses of her undiplomatic suitors. The independent-minded woman utters the famous retort, "Why don't you speak for yourself, John?" The saga has a surprise ending, one full of optimism for the American future.

A debate persists as to whether the tale is fact or fiction. Main characters Miles Standish, John Alden, and Priscilla Mullins are based upon real Mayflower passengers. Longfellow was a descendant of John Alden and Priscilla Mullins through his mother Zilpah Wadsworth and he claimed that he was relating oral history. Skeptics dismiss his saga as a folktale, but no conclusive evidence exists either way. At minimum, Longfellow used poetic license, condensing several years of events. Scholars have confirmed the cherished place of romantic love in Pilgrim culture, and have documented the Indian war described by Longfellow. Miles Standish and John Alden were likely roommates in Plymouth; Priscilla Mullins was the only single woman of marriageable age in the young colony at that time and did in fact marry Alden. Standish's first wife, Rose Handley, died aboard the Mayflower in January 1621. Two years later, Standish married a woman named Barbara in Plymouth in 1623. The union of Alden and Mullins yielded the first European colonist born on American soil, their daughter Elizabeth Alden Pabodie. The Standish and Alden families both moved from Plymouth to adjacent Duxbury, Massachusetts in the late 1620s, where they lived in close proximity, intermarried, and remained close for several generations. The Standish family burial ground and John Alden house in Duxbury are separated by a short walking distance.
 
Produktdetails
Verlag: iOnlineShopping.com
Erscheinungstermin: 8. April 2019
Englisch
ISBN-13: 9788832577525
Artikelnr.: 56290096