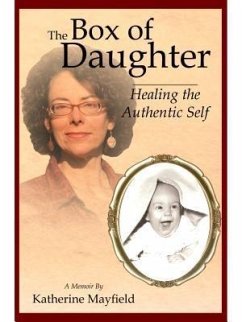 Geräte: eReader

mit Kopierschutz

Größe: 0.69MB
Andere Kunden interessierten sich
auch
für
The Box of Daughter
is the compelling true story of the author's struggle to recover from emotional abuse and family bullying, and her quest to raise her self-esteem and create a more authentic life. This captivating memoir offers many insights on the process of healing from Complex PTSD, describing the author's journey of recovery after growing up in a deeply dysfunctional family, and illustrating how a person with Complex PTSD can make the leap from surviving to thriving. In her twenties and thirties, the author pursued a professional acting career, appearing Off-Broadway, in independent films, and on the daytime drama
Guiding Light
. Entering therapy in her thirties in response to a divorce, she began to unravel the threads of dysfunction in her family. More than a decade later, armed with the truth about her family, she sought to understand the challenges her parents faced and recover from the trauma while simultaneously acting as the family caregiver for her parents in their late 80s and early 90s. Freed from the abuse by the deaths of her parents in 2005 and 2008, the author began an inspiring journey to wholeness--developing self-esteem, uncovering her true self, and finally creating a life that is truly her own.
Praise for
The Box of Daughter
:
"Every now and then, a book comes along that's written in such a compelling and gripping way that the narrative has the power to stay with you long after you've read the last page. Such is the case with
The Box of Daughter
by Maine author Katherine Mayfield… At its core,
The Box of Daughter
reveals what can only be seen as being a triumph of the human spirit."-Paul Collins,
Nashua Telegraph
"A testament to the merit of psychological healing through the understanding and expression of feelings….Mayfield's memoir provides helpful insight to those facing similar struggles."-Kirkus Reviews
"A brave, unflinching, and exquisitely rendered memoir of a family caught in the tragic and relentless cycles of emotional incest. Couldn't put it down."-Darcy Scott, author of
Hunter Huntress, Margel's Madness,
and the award-winning
Maine Island Mystery Series
"Katherine Mayfield holds nothing back, and her unflinching, thorough, and articulate honesty is a true gift for anyone wanting to understand, face, and rise above the emotional scars of a damaging childhood."-Amy Wood, Psy.D., author of
Life Your Way
Katherine Mayfield is the author of
Bullied: Why You Feel Bad Inside and What to Do About It
,
Stand Your Ground: How to Cope with a Dysfuntional Family and Recover from Trauma
,
The Box of Daughter & Other Poems
,
The Meandering Muse
, and other books on dysfunctional families.
---
Dieser Download kann aus rechtlichen Gründen nur mit Rechnungsadresse in A, D ausgeliefert werden.