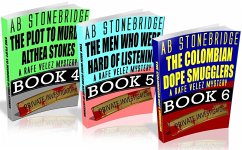 As a private investigator, Rafe dealt with decades of crime, divorce, death and depravity - and barely broke even. Pushing 50, he had a few extra pounds around the middle, a sprinkling of gray hair and a cynical view of life, relieved only by a deadpan sense of humor. All of that changed one day, thanks to a windfall he didn't expect.
Enter the world of the Rafe Velez Mysteries: intrigue, suspense, mystery, crime and a cast of characters taken from real life (and changed just enough to protect their identities - at least, until the statute of limitations expires). Enter into the mind of a man whose life is an open book - that should be suppressed!
Meet his friends, frenemies and frequent locations for his adventures:
• Detectives Toole and Williams, Robbery/Homicide's finest - said nobody, never. • Harpo, a stray dog that wandered into his life and has a great sense of humor. • Jean Smalls, the first woman in a long time who threatens to take his bachelor card. • Keith Verdi, electrical contractor, who has other talents - and secrets. • Momo Argento, the semi-retired Don of a crime family, who keeps a hand in the game. • The Greasy Spoon restaurant, a real tribute to truth in advertising. • The Shiny Penny, your soon-to-be-favorite dive bar.
...and a motley crew of clients and suspects. Expect surprises: not every client is on the right side of the law and not every suspect is guilty.
You won't always know what's going on in the minds of the supporting characters. You will always know exactly what Rafe is thinking - unless he's not thinking at all!
Discover The Rafe Velez Mysteries. No, really, go ahead! PG Rated - no four letter words or explicit sex, but if you read between the lines...
---
Dieser Download kann aus rechtlichen Gründen nur mit Rechnungsadresse in A, B, CY, CZ, D, DK, EW, E, FIN, F, GR, H, IRL, I, LT, L, LR, M, NL, PL, P, R, S, SLO, SK ausgeliefert werden.
Produktdetails
Verlag: AB Stonebridge
Erscheinungstermin: 27.05.2014
Englisch
ISBN-13: 9781501418471
Artikelnr.: 42219055