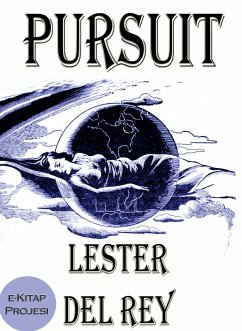 Geräte: eReader

ohne Kopierschutz

Größe: 2.08MB

FamilySharing(5)
Andere Kunden interessierten sich
auch
für
He was a soft egg in a vast globe of elastic gelatine. Two creatures swam menacingly through the resisting globe toward him. The gelatine fought against them, but they came on. One was near, and made a mystic pass. He screamed at it, and the gelatine grew stronger, throwing them back and away. Suddenly, the creatures drew back. A door opened, and they were gone. But he couldn't let them go. If they escaped....
Hawkes jerked upright in his bed, gasping out a hoarse cry, and the sound of his own voice completed the awakening. He opened his eyes to a murky darkness that was barely relieved by the little night-light. For a second, the nightmare was so strong on his mind that he seemed to see two shadows beyond the door, rushing down the steps. He fought off the illusion, and with straining senses jerked his head around the room. There was nothing there.
Sweat was beading his forehead, and he could feel his pulse racing. He had to get out-had to leave-at once!
He forced the idea aside. There was something cloudy in his mind, but he made reason take over and shove away some of the heavy fear. His fingers found a cigarette and lighted it automatically. The first familiar breath of smoke in his lungs helped. He drew in deeply again, while the tiny sounds in the room became meaningful. There was the insistent ticking of a clock and the soft shushing sound of a tape recorder. He stared at the machine, running on fast rewind, and reversed it to play. But the tape seemed to be blank, or erased.
He crushed the cigarette out on a table-top where other butts lay in disorder. It looked wrong, and his mind leaped up in sudden frantic fear, before he could calm it again. This time, reason echoed his emotional unease.
Hawkes had never smoked before!
But his fingers were already lighting another by old habit. His thoughts lurched, seeking for an answer. There was only a vague sense of something missing-a period of time seemed to have passed. It felt like a long period, but he had no memory of it. There had been the final fight with Irma, when he'd gone stalking out of the house, telling her to get a divorce any way she wanted. He'd opened the mail-box and taken out a letter-a letter from a Professor....
His mind refused to go further. There was only a complete blank after that. But it had been in midwinter, and now he could make out the faint outlines of full-leafed trees against the sky through the window! Months had gone by-and there was no faintest trace of them in his mind.
They'll get you! You can't escape! Hurry, go, GO!...
The cigarette fell from his shaking hands, and he was half out of the bed before the rational part of his mind could cut off the fear thoughts. He flipped on the lights, afraid of the dimness. It didn't help. The room was dusty, as if unused for months, and there was a cobweb in one corner by the mirror.
His own face shocked him. It was the same lean, sharp-featured face as ever, under the shock of nondescript, sandy hair. His ears still stuck out too much, and his lips were a trifle too thin. It looked no more than his thirty years; but it was a strained face, now-painted with weeks of fatigue, and grayish with fear, sweat-streaked and with nervous tension in every corded tendon of his throat. His somewhat bony, average-height figure shook visibly as he climbed from the bed.
Hawkes stood fighting himself, trying to get back in the bed, but it was a losing battle. Something seemed to swing up in the corner of the room, as if a shadow moved. He jerked his head toward it, but there was nothing there.
He heard his breath gasping harshly, and his knuckles whitened. There was the taste of blood in the corner of his mouth where he was biting his lips.
Get out! They'll be here at once! Leave-GO!
---
Dieser Download kann aus rechtlichen Gründen nur mit Rechnungsadresse in A, B, BG, CY, CZ, D, DK, EW, E, FIN, F, GR, H, IRL, I, LT, L, LR, M, NL, PL, P, R, S, SLO, SK ausgeliefert werden.