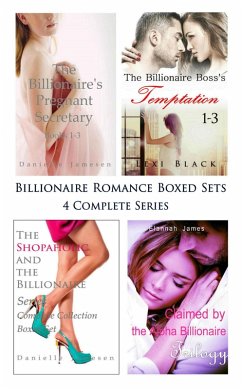 Geräte: eReader

mit Kopierschutz

Größe: 0.44MB

FamilySharing(5)
THE BILLIONAIRE'S PREGNANT SECRETARY
Two months after her boyfriend, Joey, died in a car accident, Linda found out she was pregnant. Unable to find a job, Linda is getting desperate. Not only will she have a baby to support, but her very laidback roommate needs her to start paying her share of the rent. After talking with a friend, she's able to get an interview for a secretary job at Rockwell Marketing, a billion dollar company. She gets hired on the spot and starts work on Monday, which she is nervous and excited for. When she gets home, she finds out that her roommate knows she is pregnant. Samson is very dedicated to his work. He believes in a strong work ethic and enjoys having complete control in everything that goes on in his company. His high standards in the workplace have caused six replacements for secretary in two months. Most of them he doesn't even learn their names, but for some reason he can't get Linda Connors out of his head.
THE BILLIONAIRE BOSS'S TEMPTATION
Tess Sartre thought she had it all planned out - she had the perfect man, the perfect job, and the perfect plan for her future. But just one afternoon and an unspeakable betrayal in Cardiff takes that all from her, sending her into the depths of despair and back to square one. Which is how she ends up finding herself in Bristol - in a city she doesn't know, with no friends or family, no money and no plan.
But things aren't quite as bad as they seem. She quickly comes to find that her wonderful new housemates are a perfect replacement for the friends and family she lost, and when she meets Logan Norse - her mysterious, arrogant, incredibly successful and exceedingly good looking new boss - things definitely start looking up for her.
As their professional and personal relationship begins to grow, Tess is sent on a rollercoaster of opportunity and emotion that spans across several continents. But where will the Norse rollercoaster end? And what choices and detours - good or bad - will she make along the way to determine its outcome?
THE SHOPAHOLIC AND THE BILLIONAIRE
Mia, newly divorced, finds herself fraying at the threads. Her life that was once so picture perfect has now come to pieces in front of her. Her husband has left her for another woman. To make matters worse, Mia's boutique is failing due to her non-stop spending.
In the midst of all of this, Mia's secret addiction threatens to cast a dark shadow over anything she wants to do. Feeling stuck and hopeless, she only digs herself in a deeper hole.
It isn't until she receives an invite to her college reunion that Mia starts to think of her ex-boyfriend, Charles. Now a billionaire and a well-respected doctor, Mia finds herself itching to see him again and see if they can reconnect.
As old insecurities rise up, she must decide if she is going to jump off the cliff and see her billionaire ex-lover or run away and stay on the path she is currently traveling. CLAIMED BY THE ALPHA BILLIONAIRE
Eliza Avery is a Vocal Performance major and cheerleader. Graham Tyler is a young genius. Through a mutual acquaintance, the two college students meet and fall in love. Their relationship, though out of the ordinary, is happy and full of love.
For a time, they are happy and carefree. They love one another and are certain that nothing can ever tear them apart. However, when educational opportunities are offered to Graham, can Eliza ever cope with the decisions that he is forced to make?
WARNING: Mature readers only.
---
Dieser Download kann aus rechtlichen Gründen nur mit Rechnungsadresse in A, B, CY, CZ, D, DK, EW, E, FIN, F, GR, H, IRL, I, LT, L, LR, M, NL, PL, P, R, S, SLO, SK ausgeliefert werden.