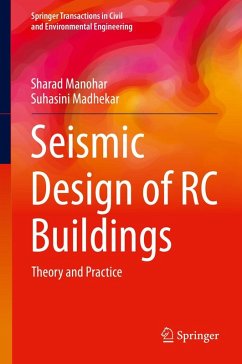 Andere Kunden interessierten sich
auch
für


Apart from the theoretical approach to design of multi-storey buildings, the book highlights the care required in practical design and construction of various building components. It covers modal analysis in depth including the important missing mass method of analysis and tension shift in shear walls and beams. These have important bearing on reinforcement detailing. Detailed design and construction features are covered for earthquake resistant design of reinforced concrete as well as confined and reinforced masonry structures. The book also provides the methodology for assessment of seismic forces on basement walls and pile foundations. It provides a practical approach to design and detailing of soft storeys, short columns, vulnerable staircases and many other components. The book bridges the gap between design and construction. Plenty of worked illustrative examples are provided to aid learning. This book will be of value to upper undergraduate and graduate students taking courses on seismic design of structures.


Produktdetails
Springer Transactions in Civil and Environmental Engineering
Artikelnr. des Verlages: 978-81-322-2318-4
1st ed. 2015
Erscheinungstermin: 11. Oktober 2015
Englisch
Abmessung: 244mm x 163mm x 30mm
Gewicht: 902g
ISBN-13: 9788132223184
ISBN-10: 8132223187
Artikelnr.: 42166007
Earthquakes.- Important Attributes for Seismic Design.- Vibration Concepts.- Response Evaluation.- Planning for Aseismic Buildings.- Frames and Diaphragms.- Shear Walls.- Sub-structure Design and Soil-structure Coupling.- Confined and Reinforced Masonry Buildings.- Base Isolation.- Performance Based Seismic Design.