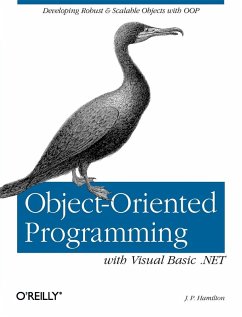 Andere Kunden interessierten sich
auch
für


The concept of separating the interface from the implementation has been around for years, but with Object-Oriented Programming with Visual Basic .NET you'll put it all into practice and you'll never willingly go back to those old ways. With chapters on object fundamentals and class anatomy, you'll lay a foundation that will prepare you to think and apply code reuse principles. Following that, you'll be ready to dive deep into code and the dynamic ecology that it interacts with. Inheritance, containment, polymorphism, overloading, and overriding are just the beginning of this adventure. From there, you'll discover exception handling, reflection, serialization, and I/O.

Packed with examples that will guide you through every step, Object-Oriented Programming with Visual Basic .NET is a guide for those with some programming experience. This book is for those who know Visual Basic 6.0 and are ready or have started the process of developing with Visual Basic .NET. It is an essential tool that will build your skills, as you become a master of Visual Basic .NET.

It is one thing to know how to write object-oriented code. Knowing the when and the why is what makes good programmers. That's exactly what you'll know after reading this book.
Produktdetails
Seitenzahl: 350
Erscheinungstermin: Oktober 2002
Englisch
Abmessung: 237mm x 178mm x 20mm
Gewicht: 490g
ISBN-13: 9780596001469
ISBN-10: 0596001460
Artikelnr.: 09754411