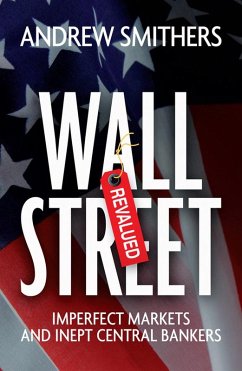 ---
Dieser Download kann aus rechtlichen Gründen nur mit Rechnungsadresse in A, D ausgeliefert werden.
Produktdetails
Verlag: John Wiley & Sons
Seitenzahl: 256
Erscheinungstermin: 17.08.2009
Englisch
ISBN-13: 9780470682692
Artikelnr.: 37298746
Foreword. Chapter 1 Introduction. Chapter 2 Synopsis. Chapter 3 Interest Rate Levels and the Stock Market. Chapter 4 Interest Rate Changes and Share Price Changes. Chapter 5 Household Savings and the Stock Market. Chapter 6 A Moderately rather than a Perfectly Efficient Market. Chapter 7 The Efficient Market Hypothesis. Chapter 8 Testing the Imperfectly Efficient Market Hypothesis. Chapter 9 Other Claims for Valuing Equities. Chapter 10 Forecasting Returns without Using Value. Chapter 11 Valuing Stock Markets by Hindsight Combined with Subsequent Returns. Chapter 12 House Prices. Chapter 13 The Price of Liquidity
The Return for Holding Illiquid Assets. Chapter 14 The Return on Equities and the Return on Equity Portfolios. Chapter 15 The General Undesirability of Leveraging Equity Portfolios. Chapter 16 A Rare Exception to the Rule against Leverage. Chapter 17 Profits are Overstated. Chapter 18 Intangibles. Chapter 19 Accounting Issues. Chapter 20 The Impact on q. Chapter 21 Problems with Valuing the Markets of Developing Economies. Chapter 22 Central Banks' Response to Asset Prices. Chapter 23 The Response to Asset Prices from Investors, Fund Managers and Pension Consultants. Chapter 24 International Imbalances. Chapter 25 Summing Up. Appendix 1 Sources and Obligations. Appendix 2 Glossary of Terms. Appendix 3 Interest Rates, Profits and Share Prices by James Mitchell. Appendix 4 Examples of the Current (Trailing) and Next Year's (Prospective) PEs Giving Misleading Guides to Value. Appendix 5 Real Returns from Equity Markets Comparing 1899
1954 with 1954
2008. Appendix 6 Errors in Inflation Expectations and the Impact on Bond Returns by Stephen Wright and Andrew Smithers. Appendix 7 An Algebraic Demonstration that Negative Serial Correlation can make the Leverage of an Equity Portfolio Unattractive. Appendix 8 Correlations between International Stock Markets. Bibliography. Index.

"...an economist with a good record in identifying bubbles...provides evidence" (Financial Times, August 5th 2009)

"Mr Smithers makes his case convincingly, dismissing alternative indicators of valuation, such as the dividend yield, along the way" (The Economist, August 14th 2009)

'...an interesting book with many challengers to conventional thought.' (TheActuary.org.uk, June 2010)