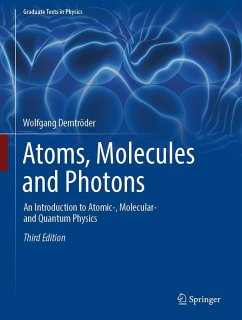 Produktdetails
Graduate Texts in Physics
Artikelnr. des Verlages: .978-3-662-55521-7, 978-3-662-55521-7
3. Aufl.
Erscheinungstermin: März 2019
Englisch
Abmessung: 287mm x 215mm x 40mm
Gewicht: 1609g
ISBN-13: 9783662555217
ISBN-10: 3662555212
Artikelnr.: 48478118
Introduction.- The Concept of the Atom.- Development of Quantum Physics.- Basic Concepts of Quantum Mechanics.- The Hydrogen Atom.- Atoms with More Than One Electron.- Emission and Absorption of Electromagnetic Radiation by Atoms.- Lasers.- Diatomic Molecules.- Polyatomic Molecules.- Experimental Techniques in Atomic and Molecular Physics.- Modern Developments in Atomic and Molecular Physics.- Chronological Table for the Development of Atomic and Molecular Physics.- Solutions to the Exercises.
---
Introduction
- Evolution of the atom model
- Evolution of quantum physics
- Fundamentals of quantum mechanics
- The hydrogen atom
- Atoms with several electrons
- Emission and absorption of electromagnetic radiation
- Laser
- Molecules
- Experimental methods in atomic- and molecular physics
- Structure of condensed matter
- Dynamics of crystal lattice
- Electrons in condensed matter
- Semiconductors
- Dielectric and optical properties of condensed matter
- Amorphous solid state matter, liquids, liquid crystals and cluster
- Surfaces.
From the reviews:

"This book is an outstanding introduction to Atomic, Molecular and Quantum Physics. It reflects the author's detailed knowledge of and very many years of scholarship in the field. I find it to be well written … . The text has very many pertinent diagrams that elucidate the mathematical equations and physical interactions under discussion. … I believe that this book is a valuable addition to the texts on the topic … . It is a very worthwhile addition to the library shelves." (John Holdsworth, Australian Physics, Vol. 32 (6), 2007)