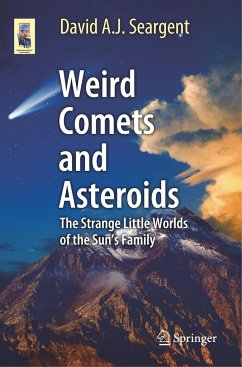 Produktdetails
Astronomers' Universe
Artikelnr. des Verlages: .978-3-319-56557-6
1st ed. 2017
Erscheinungstermin: 13. Juni 2017
Englisch
Abmessung: 238mm x 158mm x 20mm
Gewicht: 535g
ISBN-13: 9783319565576
ISBN-10: 3319565575
Artikelnr.: 47727338
1 Unsung Little Worlds.- 2 Weird Objects with Split Personalities.- 3 Comet Oddities - Different Objects Sharing the Same Orbit.- 4 More Comet Oddities - Outbursts, Disruptions and Other Strange Behavior.- 5 The Fascinating Taurid Complex.- 6 The Mice that Roared.- Appendix 1 The Taurid Complex.- Appendix 2 Comet/Asteroid "Transition" Objects.- Glossary of Terms.- Name Index.- Subject Index.