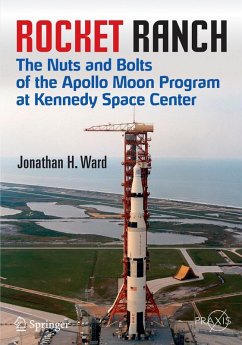 Andere Kunden interessierten sich
auch
für


The era of the Apollo/Saturn missions was perhaps the most exciting period in American space exploration history. Cape Canaveral and Kennedy Space Center were buzzing with activity. Thousands of workers came to town to build the facilities and launch the missions needed to put an American on the Moon before the end of the decade.

Work at KSC involved much more than just launching rockets. It was a place like none other on Earth. Technicians performed intricate operations, and hazards abounded everywhere, including lightning, fire, highly-toxic fuels, snakes, heat, explosives, LOX spills, and even plutonium. The reward for months of 7-day workweeks under intense pressure was witnessing a Saturn V at liftoff.

For anyone who ever wished they had worked at Kennedy Space Center during the Apollo era, this book is the next best thing. The only thing missing is the smell of rocket fuel in the morning.

Produktdetails
Springer Praxis Books
Artikelnr. des Verlages: 978-3-319-17788-5
2015
Erscheinungstermin: 13. Juli 2015
Englisch
Abmessung: 240mm x 168mm x 19mm
Gewicht: 676g
ISBN-13: 9783319177885
ISBN-10: 3319177885
Artikelnr.: 42415061
Introduction.- Setting the Stage for Apollo/Saturn 1960-1966.- The Apollo 1 Fire.- The Spacecraft Assembly and Checkout Facilities.- The VAB and the Mobile Launcher.- The Launch Control Center and Firing Rooms.- Launch Pads 39A and 39B.- Life at the Launch Pad.- Epilogue: The End of an Era.
"Ward ... makes the inner workings of the Apollo and Saturn space missions very understandable. ... He does a fantastic job of showing the behind-the-scenes work that allowed the Apollo and Saturn space missions to take place. All readers interested in the history of space exploration will enjoy this work. Summing Up: Highly recommended. All readership levels." (C. Charnaswskas-Jasionowicz, Choice, Vol. 53 (9), May, 2016)
"Rocket Ranch is an enjoyable overview of the Kennedy Space Center during the 1960s and a once-over-lightly account of the Moon landing program. ... Contained here is the best account I have seen of the computing efforts at KSC and the operational aspects of the Apollo program. There is also a lengthy chapter on the Apollo 1 fire that many will find of interest. Ward relies on more than seventy interviews that he personally conducted ... ." (Roger Launius's Blog, launiusr.wordpress.com, March, 2016)
"Rocket Ranch is the most recent attempt by memorabilia collectors to provide a technical description of Kennedy Space Center. Space Center enthusiasts and technophiles will love the detailed descriptions and the stories drawn from Ward's interviews with employees, contractors, and associates of Kennedy Space Center during the Apollo era. ... Kennedy Space Center technophiles will love Ward's Rocket Ranch for providing them a more detailed and largely accurate description of Apollo-era technology infrastructure in a well-organized tour guide
format." (Orville Butler, Quest, Vol. 23 (2), 2016)