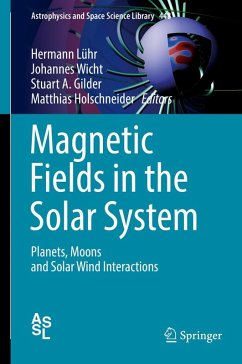 Andere Kunden interessierten sich
auch
für


Magnetic fields play an important role in making a planet habitable by protecting the environment from the solar wind. Without the geomagnetic field, for example, life on Earth as we know it would not be possible. And results from recent space missions to Mars and Venus strongly indicate that planetary magnetic fields play a vital role in preventing atmospheric erosion by the solar wind. However, very little is known about the underlying interaction between the solar wind and a planet's magnetic field.

The book takes a synergistic interdisciplinary approach that combines newly developed tools for data acquisition and analysis, computer simulations of planetary interiors and dynamos, models of solar wind interaction, measurement of ancient terrestrial rocks and meteorites, and laboratory investigations.


Produktdetails
Astrophysics and Space Science Library 448
Verlag: Springer / Springer, Berlin
Artikelnr. des Verlages: 978-3-319-64291-8
1st ed. 2018
Erscheinungstermin: 22. Januar 2018
Englisch
Abmessung: 241mm x 160mm x 29mm
Gewicht: 804g
ISBN-13: 9783319642918
ISBN-10: 331964291X
Artikelnr.: 48559570
Scientific summary of the German Priority Program "PlanetMag.- Modelling the Interior Dynamics of Gas Planets.- Global geomagnetic field reconstructions from centuries to excursions.- Sub-decadal and decadal variations in Earth core flow models for 1957 to 2008.- Laboratory experiments and numerical simulations on magnetic instabilities.- Modeling magnetospheric fields in the Jupiter system.- Empirical models of currents in terrestrial planetary magnetospheres and their response to solar wind dynamics.- Kinetic Simulations of the Particle Acceleration at Mercury.- Physical processes in the dusty plasma of the Enceladus plume.- The ionospheric current system and its contributions to the Earth's magnetic field.- Climatology of vertical plasma flow in the terrestrial cusp region: seasonal and IMF dependence.- The crustal magnetic field of Mars.- Magnetic signatures of terrestrial meteorite impact craters: A summary.- Magnetic
Properties of the Iron-Nickel System: Pressure, Composition and Grain Size.

 

"This book summarizes work done in the programme 'PlanetMag', sponsored by a German research foundation. It discusses observation and modelling of magnetic fields, or processes strongly influenced by magnetism, within different environments in the Solar System. ... I would recommend this book as a well-referenced and up-to-date summary of research related to planetary magnetism and magnetosphers." (Nick Achilleos, The Observatory, Vol. 139 (1268), February, 2019)