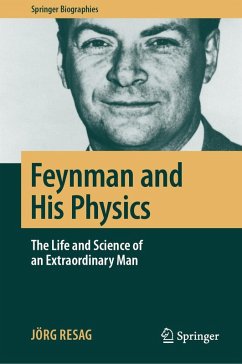 Andere Kunden interessierten sich
auch
für


Be enchanted by this book and understand the physics of the genius whose 100th birthday was celebrated in 2018.


Produktdetails
Springer Biographies
Originaltitel: Feynman und die Physik
Artikelnr. des Verlages: 978-3-319-96835-3
1st ed. 2018
Erscheinungstermin: Dezember 2018
Englisch
Abmessung: 241mm x 160mm x 23mm
Gewicht: 646g
ISBN-13: 9783319968353
ISBN-10: 3319968351
Artikelnr.: 52986249
Adolescent years and the principle of least action.- Princeton, Path Integrals, and the Manhattan Project.- Feynman's Path to Quantum Electrodynamics.- California, super cold helium, and the weak interaction.- From researcher to teacher and Nobel Prize winner.- Quarks, computers, and the Challenger disaster.- Glossary.- Sources and Literature.

"Feynman and His Physics is a well-written, popular book on an esoteric subject. Reading it will provide an initial overview of Feynman's life with physics, an introduction to aspects of twentieth century physics, and certainly an encouragement to dive deeper into the world of physics." (Marcus Lee Naldal, Metascience, Vol. 29 (1), 2020)

"Resag, an independent scholar, has combined a blend of quantum physics and the personal life of this multifaceted and complex genius into a highly readable biography that is well worth including on library shelves and individual collections. A glossary and a section on sources and literature add to the value of this book." (C. G. Wood, Choice, Vol. 56 (10), June, 2019)
"It's an excellent book for a particular audience ... the reader really gets a feel for his unique approach to physics and how he often saw things differently to many of his contemporaries." (Brian Clegg, Popular Science, popsciencebooks.blogspot.com, April 14, 2019)