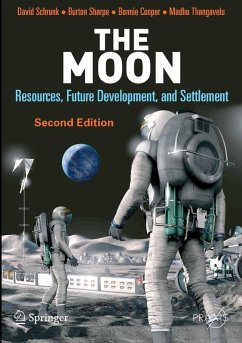 ---
Dieser Download kann aus rechtlichen Gründen nur mit Rechnungsadresse in A, B, BG, CY, CZ, D, DK, EW, E, FIN, F, GR, HR, H, IRL, I, LT, L, LR, M, NL, PL, P, R, S, SLO, SK ausgeliefert werden.
Produktdetails
Verlag: Springer-Verlag GmbH
Erscheinungstermin: 27. November 2007
Englisch
ISBN-13: 9780387739823
Artikelnr.: 38195519
Lunar origins and physical features.- Science opportunities - engineering challenges.- Lunar resources.- Lunar robotic and communication systems.- The first lunar base.- Return of humans to the Moon.- Circumferential lunar utilities.- The Planet Moon.- Governance of the Moon.- Endless frontiers.- Conclusion.
From the reviews of the second edition:

"This is basically a handbook describing what must be done to return to the moon, build permanent bases, and use them as a springboard for economic development such as mining, as well as to push further into the solar system and beyond. ... This book ... would be a valuable addition to the shelves of technical libraries, particularly those associated with schools of aeronautics, space exploration, or engineering. Summing Up: Recommended. Upper-division undergraduates through professionals." (C. G. Wood, CHOICE, Vol. 45 (7), 2008)

"The Moon is a broad-scoped treatment of future lunar development, with a lot of technical information in an easy-to-read style. ... this book is an interesting read for all different types of Earth-bound lunar enthusiasts. The book ... briefly covering the formation, characteristics, and historical explorations of the Moon starting with Apollo. ... The book has well-described ideas and illustrations for lunar development concepts. The scope includes discussion of robotics technology and its near-term application to lunar operations." (Gordon Woodcock, National Space Society, September, 2009)