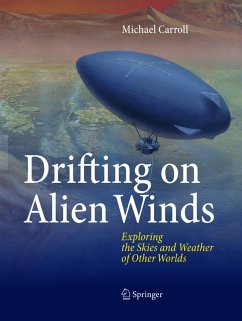 Produktdetails
Artikelnr. des Verlages: .978-1-4939-7927-1
Softcover reprint of the original 1st ed. 2011
Seitenzahl: 238
Erscheinungstermin: März 2012
Englisch
Abmessung: 235mm x 155mm
ISBN-13: 9781493979271
ISBN-10: 1493979272
Artikelnr.: 54778404
Preface: Something in the Air.- Part I: Starting Here and Getting There.- Chapter 1: The Sky at Home.- Chapter 2: What It Really Takes to Explore Alien Skies.- Chapter 3: Studies on the Fly.- Chapter 4: Studying the Weather from the Inside.- Part II: The Forecast - Clearing, with Scattered Ammonia Showers by Morning.- Chapter 5: Venus.- Chapter 6: Mars.- Chapter 7: Jupiter.- Chapter 8: Saturn and Titan.- Chapter 9: Uranus, Neptune, and Triton.- Part III: Future Explorers.- Chapter 10: Future Ballons, Aircraft, and Upcoming Missions.- Chapter 11: To Venture on Wilder Seas.- Glossary.- Chapter Notes.- Tables.- Index.
From the reviews: "A very respectable science reference book, a book of very, very pretty pictures, with captions ... . very useful and informed reference book, packed with science and stories, tales of triumph and failure, and as many questions as answers. ... this is a fantastic book, much more than people will expect it to be when they first hear about it or see it advertised. It's not simply a book of or about space art; it chronicles the past, present and future of space exploration." (Cumbrian Sky, May, 2011) "Drifting on Alien Winds is as much about what we don't know about weather as what we do. ... It was an interesting book filled with much technical information about weather that was written in an easily understandable manner with pictures ... of technicians handling the Galileo probe to the wonderous artist rendering of nights on Saturn. I enjoyed reading the book ... . It is a book that will make you think and keep you coming back for more." (James Wedge, Goodreads, 2011) "All the sensible atmospheres and their phenomena are described and explained in the clear, concise language ... . Nowhere else will you find such kaleidoscopic coverage of atmospheres, from the hell-hole of Venus to the blue orb of Neptune. ... This book is a delight just for the fascinating facts in the text, but at the same time enlightens our understanding and intrigues our interest with the abundant colorful photos and art work." (ComMarBen, Goodreads, 2011) "Mike Carroll's 'Drifting on
Alien Winds' is a sweeping survey of planetary exploration past, present and future. The book is a delightfully stunning combination of hard science, informed speculation, and breathtaking art. I've spent more than 30 years in the 'space biz' and I learned a lot from this beautiful book." (K. Jeff, Goodreads, 2011) "Both easy to understand and enjoyable to read while covering some often-complex subjects, this is an outstanding book. ... Carroll tours the reader through Earth's atmosphere and out into our solar system. ... Highly recommended for those who want to know what humans can achieve when we turn our curiosity to exploration and understanding. The illustrations are also beautiful and informative." (Goodreads, 2011) "A useful reference book on the composition and atmospheres of other planets. ... pictures are in fact photographic images from NASA and other sources; but they are still useful and valuable complements to the artist's visualisations. ... Overall, I recommend this book to all who are interested in planetary astronomy, in the past, present and future of space exploration, and in knowing more about our neighbouring worlds." (David A. Hardy, Goodreads, 2011) "Carroll's latest book, Drifting on Alien Winds; Exploring the Skies and Weather of Other Worlds published by Springer Books, combines his art and interest in space to bring the reader a fascinating insight into the weather systems and atmospheres of the Planets and Satellites of our Solar System." (Paul Rumsby, Best Astronomy Books, September, 2011) "An original and fact-filled look at atmospheres of other worlds - and how scientists and engineers are taking on the challenge of riding through alien skies. The reader will find this distinctive book a marvelous and fun read - and handsomely illustrated, some of which come from Carroll himself. ... This volume provides excellent tutorials on the science of planetary atmospheres and weather patterns of other planets and moons in our Solar System and how we learn about them." (Leonard David, Space Coalition, November, 2011) "Drifting On Alien Winds sets out to survey the remarkable climate and weather systems of the Solar System, and achieves its aim admirably. Its large-format pages are filled with detailed, thoroughly researched but approachable text, accompanied by copious illustrations that range from the latest space probe images, through archive material to the author's own stunning artworks. Carroll divides h