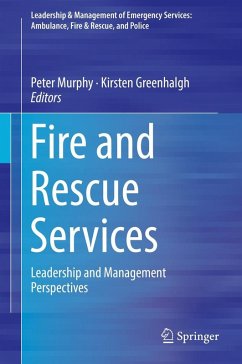 Geräte: PC

ohne Kopierschutz

Größe: 3.58MB
Andere Kunden interessierten sich
auch
für
· Evolution and adaptation of fire and rescue services during periods of expansion and austerity.
· Civil protection as a local and national priority.

· Structural issues: assessments and improvements, collaborations with other services.

· Emerging social concerns: diversity, gender equality, the aging worker population.

· The concepts and consequences of heroes and heroism.

· Future directions for governance, transparency, and accountability.

Fire and Rescue Services complements the earlier volumes in the Leadership & Management of Emergency Services series with equal parts realism and vision. It should interest a wide audience of public policymakers, public managers, and emergency service personnel, as well as academics and researchers.


---
Dieser Download kann aus rechtlichen Gründen nur mit Rechnungsadresse in A, B, BG, CY, CZ, D, DK, EW, E, FIN, F, GR, HR, H, IRL, I, LT, L, LR, M, NL, PL, P, R, S, SLO, SK ausgeliefert werden.