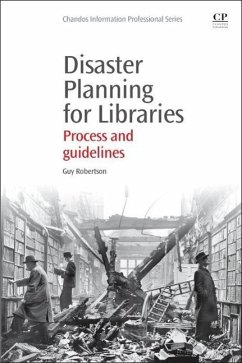 Andere Kunden interessierten sich
auch
für
Disaster Planning for Libraries
provides a practical guide to developing a comprehensive plan for any library. Twelve chapters cover essential areas of plan development; these include an overview of the risks faced by libraries, disaster preparedness and responding to disasters, resuming operations after a disaster and assessing damage, declaring disaster and managing a crisis, cleaning up and management after a disaster and normalizing relations, staff training, testing disaster plans, and the in-house planning champion.
Provides a practical approach to developing a comprehensive plan for any library, big or small
Supplements technical information with interviews and case studies
Includes appendices covering pandemic management, moisture control, and library security
Produktdetails
Chandos Information Professional Series
Verlag: Chandos
New
Seitenzahl: 232
Erscheinungstermin: 15. Dezember 2014
Englisch
Abmessung: 228mm x 151mm x 22mm
Gewicht: 386g
ISBN-13: 9781843347309
ISBN-10: 184334730X
Artikelnr.: 40910688
Libraries and Risk; Disaster preparedness; Operational resumption, continuity, and recovery; Damage assessment and strategic alliances; Disaster declaration and crisis management; Clean-up, who, when and how; Post-disaster management of patrons; Normalization of operations; Staff orientation and training; Testing, auditing, updating disaster plans; The in-house planning champion; Pandemic management in libraries; Moisture control vendors and their services; Library security and loss control.
"...a practical guide to developing a comprehensive disaster plan for any library...an essential read for the library administrators managing significant library infrastructure." --Annals of Library and Information Studies "Its strength is in risk identification and includes inventories of possible threats including toxic spills, train derailments, and nuclear power plant failures." --The Scholarly Kitchen