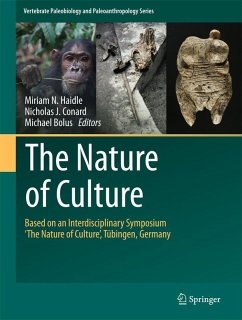 Produktdetails
Vertebrate Paleobiology and Paleoanthropology .0
Verlag: Springer Netherlands
Erscheinungstermin: Februar 2016
Englisch
Abmessung: 287mm x 215mm x 17mm
ISBN-13: 9789401774246
ISBN-10: 9401774242
Artikelnr.: 43607220
The Nature of Culture: Research Goals and New Directions.- Lessons From Tasmania - Cultural Performance Versus Cultural Capacity.- Culture as a Form of Nature.- The Evolution of Hominin Culture and its Ancient Pre-Hominin Foundations.- Scarce but Significant: The Limestone Component of the Acheulean Site of Gesher Benot Ya'aqov, Israel.- Technological Transformations Imply Cultural Transformations and Complex Cognition.- Neanderthal Utilitarian Equipment and Group Identity: The Social Context of Bifacial Tool Manufacture and Use.- Tracing Group Identity in Early Upper Paleolithic Stone and Organic Tools - Some Thoughts and Many Questions.- Childhood, Play and the Evolution of Cultural Capacity in Neanderthals and Modern Humans.- Stone Tools: Evidence of Something in Between Culture and Cumulative Culture?.- The Island Test for Cumulative Culture in the Paleolithic.- Mountaineering or Ratcheting? Stone Age Hunting Weapons as Proxy for the Evolution of Human Technological, Behavioral and Cognitive Flexibility.