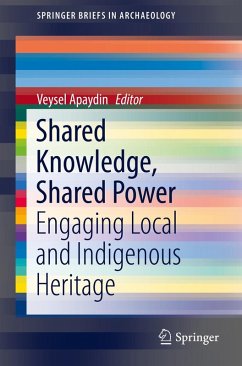 Andere Kunden interessierten sich
auch
für


The last several decades have witnessed a rapid increase in the field of cultural heritage studies worldwide. This increase in the number of studies and in interest by the public as well as academics has effected substantial change in the understanding of heritage and approaches to heritage studies. This change has also impacted the perception of communities, how to study and protect the physical residues of heritage, and how to share the knowledge of heritage. It has brought the issue of who has knowledge and how the value of heritage can be shared more effectively with communities who then ascribe meaning and value to heritage materials.

Heritage studies, until a few decades ago, exclusively studied the material culture of the past as part of elitist approaches that completely neglected communities' rights to knowledge of their own heritage. Additionally, heritage practitioners and archaeologists neither shared this knowledge nor engaged with communities about their heritage. Communities were also mostly deprived from contributing to heritage and archaeological studies. This kind of top-down approach was quite common in many parts of the world.

But recent studies and research in the field have shown the importance of including the public in projects, and that sharing the knowledge produced through heritage studies and archaeological works is significant for the protection and preservation of heritage materials; it has finally been understood that excluding the public from heritage is not ethical.

This publication presents a wide array of case studies with different approaches and methods from many parts of the world to answer these questions.


Produktdetails
SpringerBriefs in Archaeology
Artikelnr. des Verlages: 978-3-319-68651-6
1st ed. 2018
Erscheinungstermin: 18. Dezember 2017
Englisch
Abmessung: 235mm x 155mm x 8mm
Gewicht: 270g
ISBN-13: 9783319686516
ISBN-10: 3319686518
Artikelnr.: 48990108
1. Introduction: approaches to heritage and communities.- 2. Intellectual Soup: On the Reformulation and Repatriation of Indigenous Knowledge.- 3. Who knows what? Inclusivity versus exclusivity in the Interactions of Heritage and Local Communities.- 4. Community Archaeology in Ireland: Less mitigator, more mediator?.- 5. Shaping community heritage synergies between Roman Barcelona spaces and the Gothic neighborhood.- 6.The Herculaneum Centre: the reciprocal benefits gained from building capacities for cultural heritage among institutions and communities. 7. Get'em while they're young: Advances in participatory heritage education in Croatia. 8. The SITAR Project: webplatform for archaeological sharing knowledge. 9. TrowelBlazers: Accidentally crowd-sourcing an archive of women in archaeology. 10. Epilogue: Some reflections on community archaeology and heritage.