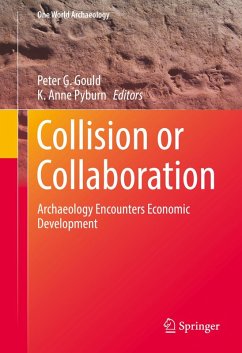 ---
Dieser Download kann aus rechtlichen Gründen nur mit Rechnungsadresse in A, B, BG, CY, CZ, D, DK, EW, E, FIN, F, GB, GR, HR, H, IRL, I, LT, L, LR, M, NL, PL, P, R, S, SLO, SK ausgeliefert werden.
Produktdetails
Verlag: Springer-Verlag GmbH
Erscheinungstermin: 26.11.2016
Englisch
ISBN-13: 9783319445151
Artikelnr.: 53036624
Preface.- Chapter 1: Introduction: Collision or Collaboration? Archaeology Encounters Economic Development (Peter G. Gould).- Chapter 2: The Future of Cultural Heritage Management: Ethics and Development (Fekri Hassan).- Chapter 3: Protection and Conservation of Archaeological Heritage in Malaysia: Issues and Challenges (Stephen Chia Ming Soon).- Chapter 4: UNESCO, World Heritage and Sustainable Development: International Discourses and Local Impacts (Sophia Labadi).- Chapter 5: From Conventions to Convictions or to Cooperation? Cultural Heritage and Forestry in Finland (Vesa Laulumaa and Satu Koivisto).- Chapter 6: Protection of Traditional Ecological Knowledge through Intergovernmental Agreements (Audi Huber).- Chapter 7: Archaeological Heritage Tourism in the Philippines: Challenges and Prospects (Jun Cayron).- Chapter 8: Bridging the Divide: Heritage Management and Development in the 21st Century (Ndukuyakhe Ndlovu).- Chapter 9: Archaeology, Heritage and Development in Two South American Colonial Sites: The Guarani-Jesuit Missions (1610-1767) (María Victoria Roca).- Chapter 10: Governing Community-Based Heritage Tourism Clusters: I Parchi della Val di Cornia, Tuscany (Peter G. Gould and Anna Paterlini).- Chapter 11: Governance Structures for the Heritage Commons: The Ecomuseum of Santo Adriano (La Ponte-Ecomuséu) (Pablo Alonzo González, Alfredo Macías Vázquez and Jesús Fernández Fernández).- Chapter 12: Considerations on Governing Heritage as a Commons Resource (Peter G. Gould).- Chapter 13: Developing Archaeology (K. Anne Pyburn).