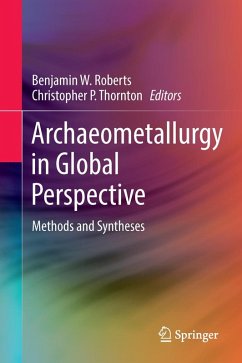 Andere Kunden interessierten sich
auch
für


This comprehensive sourcebook on Archaeometallurgy provides an overview of earlier research as well as a review of modern techniques, written in an approachable way. Covering an extensive range of archaeological time-periods and regions, this volume will be a valuable resource for those studying archaeology worldwide. It provides a clear, straightforward look at the available methodologies, including:

- Smelting processes

- Slag analysis

- Technical Ceramics

- Archaeology of Mining and Field Survey

- Ethnoarchaeology

- Chemical Analysis and Provenance Studies

- Conservation Studies

With chapters focused on most geographic regions of Archaeometallurgical inquiry, researchers will find practical applications for metallurgical techniques in any area of their study.

Ben Roberts is a specialist in the early metallurgy and later prehistoric archaeology of Europe. He was the Curator of the European Copper and Bronze Age collections at the British Museum between 2007 and 2012 and is now a Lecturer in Prehistoric Europe in the Departm
ent of Archaeology at the Durham University, UK.

Chris Thornton is a specialist in the ancient metallurgy of the Middle East, combining anthropological theory with archaeometrical analysis to understand the development and diffusion of metallurgical technologies throughout Eurasia. He is currently a Consulting Scholar of the University of Pennsylvania Museum, where he received his PhD in 2009, and the Lead Program Officer of research grants at the National Geographic Society.

Produktdetails
Verlag: Springer / Springer, Berlin
Artikelnr. des Verlages: 978-1-4939-3357-0
1st ed. 2014
Erscheinungstermin: 3. Oktober 2015
Englisch
Abmessung: 235mm x 155mm x 46mm
Gewicht: 1309g
ISBN-13: 9781493933570
ISBN-10: 1493933574
Artikelnr.: 43570263
Chapter 1: Introduction. Benjamin W. Roberts and Christopher P. Thornton.- Chapter 2: From Ores to Metals. David Killick.- Chapter 3: Metals. Michael Notis.- Chapter 4: Metallography and Microstructure of Metallic Artefacts. David A. Scott.- Chapter 5: The Investigation of Archaeometallurgical Slag. Andreas Hauptmann.- Chapter 6: Technical Ceramics. Marcos Martinón-Torres and Thilo Rehren.- Chapter 7: Methods of Mining Archaeology (Montanarchäologie). Thomas Stöllner.- Chapter 8: Experimental Archaeometallurgy. Julia Heeb and Barbara Ottaway.- Chapter 9: Ethnoarchaeological and Historical Methods. Louise Iles and S. Terry Childs.- Chapter 10: Chemical and Isotopic Studies of Ancient Metals. A. Mark Pollard and Peter Bray.- Chapter 11: Provenance Determination of Archaeological Metal Objects. Ernst Pernicka.- Chapter 12: A Conservator's Perspective on Ancient Metallurgy. Deborah Schorsch.- Chapter 13: Copper Working Technologies, Context of Use, and Social Complexity in the Eastern Woodlands of Native North America. Kathleen L. Ehrhardt.- Chapter 14: West Mexican Metallurgy: Revisited and Revised. Dorothy Hosler.- Chapter 15: Andean Metallurgy in Prehistory. Heather Lechtman.- Chapter 16: Production Networks and Consumer Choice in the Earliest Metal of Western Europe. Benjamin W. Roberts.- Chapter 17: Aspects of Metalworking and Society from the Black Sea to the Baltic Sea during the 5th-2nd Millennium BC. Tobias L Kienlin.- Chapter 18: Early Metallurgy in the Central Mediterranean. Andrea Dolfini.- Chapter 19: Cairo to Cape: The Spread of Metallurgy through Eastern and Southern Africa. David Killick.- Chapter 20: Organization and Specialization of Early Mining and Metal Technologies in Anatolia. Joseph W. Lehner and K. Aslihan Yener.- Chapter 21: Who Dunnit? New Clues Concerning the Development of Chalcolithic Metal Technology in the Southern Levant. Jonathan Golden.- Chapter 22: Ancient Metallurgy in the Caucasus from the 6th to the 3rd Millennium BCE. Antoine Courcier.- Chapter 23: The Emergence of Complex Metallurgy on the Iranian Plateau. Christopher P. Thornton.- Chapter 24: Production and Consumption of Copper-base Metals in the Indus Civilization. Brett C. Hoffman and Heather M.-L. Miller.- Chapter 25: Early Metal in South India: Copper and Iron in Megalithic Contexts. Praveena Gullapalli.- Chapter 26: Metals, Society and Economy in the Late Prehistoric Eurasian Steppe. Roger Doonan, Bryan Hanks, Dmitry Zdanovich, Elena Kupriyanova, Derek Pitman, Natal'ya Batanina and James Johnson.- Chapter 27: Metallurgy in Ancient Eastern Asia: Retrospect and Prospects. Katheryn M. Linduff and Jianjun Mei.- Chapter 28: The Transmission of Early Bronze Technology to Thailand: New Perspectives. Joyce C. White and Elizabeth G. Hamilton.
"Benjamin Roberts and Christopher Thornton have brought together the right people to produce a superb book ... that will be of useful service for some decades. ... It deserves to become the standard text for a decade, while the first part, which should age more slowly, deserves to be even longer. ... Roberts and Thornton book is the more accessible and will probably have the greater shelf-life and influence." (Rob A. Ixer, European Journal of Archaeology, Vol. 18 (3), 2015)