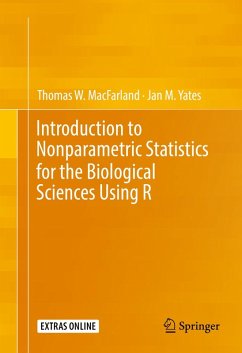 Geräte: PC

ohne Kopierschutz

Größe: 5.22MB
To introduce when nonparametric approaches to data analysis are appropriate
To introduce the leading nonparametric tests commonly used in biostatistics and how R is used to generate appropriate statistics for each test
To introduce common figures typically associated with nonparametric data analysis and how R is used to generate appropriate figures in support of each data set
The book focuses on how R is used to distinguish between data that could be classified as nonparametric as opposed to data that could be classified as parametric, with both approaches to data classification covered extensively. Following an introductory lesson on nonparametric statistics for the biological sciences, the book is organized into eight self-contained lessons on various analyses and tests using R to broadly compare differences between data sets and statistical approach.
---
Dieser Download kann aus rechtlichen Gründen nur mit Rechnungsadresse in A, B, BG, CY, CZ, D, DK, EW, E, FIN, F, GR, HR, H, IRL, I, LT, L, LR, M, NL, PL, P, R, S, SLO, SK ausgeliefert werden.
Es gelten unsere Allgemeinen Geschäftsbedingungen: www.buecher.de/agb
Impressum
www.buecher.de ist ein Shop der
buecher.de GmbH & Co. KG
Bürgermeister-Wegele-Str. 12,
86167 Augsburg
Amtsgericht Augsburg HRA 13309
Persönlich haftender Gesellschafter: buecher.de Verwaltungs GmbH
Amtsgericht Augsburg HRB 16890

Vertretungsberechtigte:
Günter Hilger, Geschäftsführer
Clemens Todd, Geschäftsführer

Sitz der Gesellschaft:Augsburg
Ust-IdNr. DE 204210010
---
Bitte wählen Sie Ihr Anliegen aus.