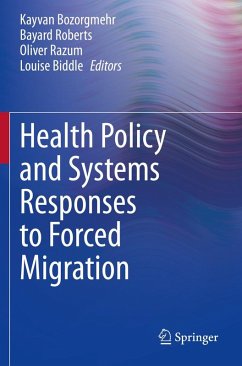 Among the analyses within the chapters:
The political economy of health and forced migration in Europe
Innovative humanitarian health financing for refugees
Understanding the resilience of health systems
Health security in the context of forced migration
Discrimination as a health systems response to forced migration
Health Policy and Systems Responses to Forced Migration
offers unique and interdisciplinary theoretical, empirical, and literature-based perspectives that apply a health policy and systems approach to health and healthcare challenges among forced migrants. It will find an engaged audience among policy makers and analysts, international organizations, scholars in academia, think tanks, and students in undergraduate programs or at the graduate level, for policy, practice, and educational purposes.
Produktdetails
Artikelnr. des Verlages: 978-3-030-33814-5
1st ed. 2020
Seitenzahl: 268
Erscheinungstermin: 26. Februar 2021
Englisch
Abmessung: 235mm x 155mm x 14mm
Gewicht: 454g
ISBN-13: 9783030338145
ISBN-10: 3030338142
Artikelnr.: 61096838
Editorial
The editorial summarises the rationale of the book, provides background information on the book project as well as an overview of each chapter. It summarises the essentials of each chapter, shows their interrelation, and highlights specific contributions.

Introduction: Why a health policy and systems approach to forced migration?The introduction defines health policy and health system, including the elements and building blocks of health systems as well as their interrelation. It outlines main concepts in the area of health policy and systems research, provides insights into systems perspectives and approaches, and clarifies why such an approach is needed to better understand and respond to challenges of forced migration. It builds the basis for readers not familiar with the field or from different disciplines andepistemological backgrounds to understand and contextualize the specific contributions of the subsequent chapters outlined below.

Chapters 1 - 10: (Preliminary structure: The 10 main areas will be further detailed out in light of specific contributions of authors)
1. Health policy and systems reforms: political economy of responses to forced migration Health policy and systems reforms are embedded in social structures, norms, and values. This chapter delineates the contemporary political economy in which policy and systems reforms with respect to forced migration are made. Applying a European perspective, this chapter shows how health policy and systems reforms interrelate, conflict, or concur with other policy areas. It takes a broaderinternational perspective as far as necessary to understand the (global) linkages between local or national policy and systems reforms and broader socio-political or economic contexts and determinants. This includes issues of policy space but also normative and legal architecture surrounding aspects of forced migration.
2. Health financing: challenges, solutions, or innovations of systems to address health and health care of forced migrantsHealth financing systems are an essential component of every health system. This chapter outlines the challenges health financing systems face in the area of forced migration. Using a case-studies approach, it provides examples of potential solutions and innovations practiced in local or national realities that have the potential to be up-scaled or transferred to other contexts. The chapter also seeks to theoretically and normatively discuss the potential of innovative financing approaches proposed in other areas (such as the global fund for health, ILO social protection floor, or transaction-based taxes) to overcome health financing challenges related to cross-border migration.
3. Health system resilience: Approaches, strategies, and interventions to improve resilienceThis chapter applies the concept of health system resilience - understood as absorptive, adaptive, and transformative capacity of systems - to the area of forced migration. Contributions in this area present how health systems have reacted to forced migration with respect to the three capacity areas that define resilience, in order to draw lessons for the future or for other countries.
4. Health security and universality: Tensions and synergiesThis chapter closely interrelates with Chapter 1 with respect to the political economy of health systems and policy reforms. The contributions in the chapter define and compare the two prominent concepts of global health policy (health security and universal health coverage) applied to the area of forced migration. The chapter scrutinises essential and fundamental tensions between the two concepts, but also identifies synergies that may be used to maximize the health gain for thepopulation of forced migrants.
5. Influencing policy: experiences, factors, and strategiesThis chapter outlines characteristics of the policy-making process as a practical and political field, and highlights areas in the context of forced migration where policy making and science (sometimes blatantly) diverge. Using examples from countries or local realities where scientific evidence effectively informed policy making, the chapter seeks to provide scientists and practitioners insights into experiences, factors, and strategies to influence the policy-making process in the context of forced migration.
6. Health information systems: gaps, challenges, and responses to forced migrationHealth information systems are an essential but often neglected component of health systems. Data are essential for healthcare planning, monitoring, and evaluation, but also for social epidemiological enquiries into health inequalities within and between population groups. This chapter provides an overview of gaps in health information systems in selected European health systems, illustrates the challenges of collecting disaggregated data by migration status, andhighlights recent initiatives of health systems to respond to forced migration by strengthening their health information systems.
7. Health services organization: screening and identification of vulnerable refugeesThe organization and delivery of health services in the context of forced migration is (compared to other health system elements) well-researched. There is, however, a gap in overviews on how health services (re-)organized to respond to recent EU directives of identifying vulnerable refugees. While there is ample literature on infectious disease screening, there are few insights into screening for other conditions such as mental health. This chapter uses country examples to provide an overview of approaches, experiences, and lessons learnt in the area of screening and identification of vulnerablerefugees.
8. Health workforce mobilization, development, and strategiesThis chapter interrelates with the chapter on health system resilience and provides experiences, evidence and knowledge on mobilising and developing a qualified health workforce to respond to the challenges of forced migration. It highlights system-level strategies, and local good practice with potentials for up-scaling.
9. Cross-border health governance: status quo, prospects, and strategiesThis chapter takes a supra-national European perspective to shed light on the challenge of cross-border health governance. As forced migrants cross national borders to reach their destination, transition countries and receiving countries need to collaborate to effectively provide the health and humanitarian needs along the migrant trajectory. This chapter analyses thestatus quo of cross-border governance that is often entrapped in national silos, discusses the prospects of cross-border governance in selected health areas, and delineates potential strategies to enhance cross-border health governance in the future.
10. Social policy, governance for health, and health governanceHealth systems interrelate with other systems, such as trade, development, or the education system. Building on Ilona Kickbusch's definition of the governance spaces for health, this chapter shows the interrelations between global health governance (i.e., dedicated health organisations) and governance in global organisations outside the health sector with relevance for health in the area of forced migration. These interrelations become important in light of the Sustainable Development Goals, which reach out beyond the health sector. This chapter analyses the status quo of currentgovernance systems with respect to forced migration and discusses the challenges and prospects of stronger inclusion of health and health systems perspectives into other sectors.
"The intended audience is policy makers, policy analysts, front line workers, academics, think tank members, and students. The book meets the needs of this audience. ... Many health systems and health policy books exist but none address forced migration using these concepts as the framework." (Carole A. Kenner, Doody's Book Reviews, July 10, 2020)