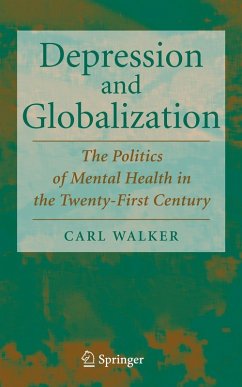 Produktdetails
Softcover reprint of hardcover 1st ed. 2008
Seitenzahl: 220
Erscheinungstermin: 29. Oktober 2010
Englisch
Abmessung: 235mm x 155mm x 12mm
Gewicht: 340g
ISBN-13: 9781441924896
ISBN-10: 1441924892
Artikelnr.: 32219187
Depression.- What Is Depression?.- The Stigma of Depression: History and Context.- Globalization.- The New Right and the 1980s.- Globalization: Definitions and Debates.- Mental Health.- The Structures of Society and Depression.- The Mental Health Sciences and the Depression Industry.- Depression and the Future.
From the reviews:

"This book is a personal treatise of depression and its relation to political and social events, especially in the United Kingdom and the United States since the late 1970s and early 1980s. ... This book might appeal to those interested in the history of mental illness (mainly depression) and its relation to global events, including sociopolitical changes occurring constantly throughout the world." (Steven T. Herron, Doody's Review Service, April, 2008)

"According to Walker ... the neo-liberal economic policies that emerged in the 1980s and dominate the global market today have had a profound effect on the increase of depressive disorders in the US and the UK. In this volume intended for both general and academic readers, he discusses social and mental health trends, linking factors of globalization to a variety of disorders, also confronting its effects on how psychological science understands and treats them." (www.booknews.com, April, 2008)

"One measure of a book is its effect on the reader's outlook. Although Depression and Globalization obliquely addresses clinical depression, I found while reading it that I began to listen to depressed patients differently. I felt newly attuned to the alienating effects of consumerist society on their lives, on its disruption of their family and social lives." (John C. Markowitz, MD, JAMA, November 5, 2008-Vol. 300, NO. 17)