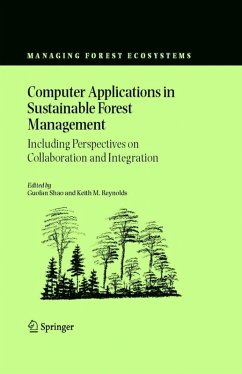 Andere Kunden interessierten sich
auch
für
The authors are internationally-recognized authorities in the subjects presented.
---
Dieser Download kann aus rechtlichen Gründen nur mit Rechnungsadresse in A, B, BG, CY, CZ, D, DK, EW, E, FIN, F, GR, HR, H, IRL, I, LT, L, LR, M, NL, PL, P, R, S, SLO, SK ausgeliefert werden.
Produktdetails
Verlag: Springer-Verlag GmbH
Seitenzahl: 277
Erscheinungstermin: 27. September 2006
Englisch
ISBN-13: 9781402043871
Artikelnr.: 37347699
Contributing authors. Preface. Part I: Introduction. 1. Introduction. 1.1 What is digital forestry? 1.2 Contemporary computer applications in forestry. 1.2.1 Remote sensing 1.2.2 Geographic information systems. 1.2.3 Modeling and simulation. 1.2.4 Visualization. 1.2.5 Decision making. 1.3. Overview of chapters. 1.4. Goals and objectives of this volume.- Part II: Core technologies. 2. High-spatial-resolution remote sensing. 2.1 Introduction.2.2 Tree delineation approaches. 2.2.1 Local-maxima approaches. 2.2.2 Boundary-seeking approaches. 2.2.3 Region-based segmentation. 2.2.4 Template matching. 2.2.5 Model-based approach in 3D. 2.3 Identifying species. 2.3.1 Spectral features and tree polygons. 2.3.2 Spatial features. 2.3.3 Temporal information for classification. 2.4 Developing stand maps. 2.5 Tree health. 2.6 Future directions and issues.- 3. Active remote sensing. 3.1 Introduction 3.2 Active, high-resolution airborne remote sensing technologies for precision forestry. 3.3 Principles of airborne laser scanning. 3.4 Lidar terrain mapping in forested areas. 3.5 Lidar for forest inventory applications. 3.6 Principles of interferometric synthetic aperture radar. 3.7 IFSAR Terrain mapping in forested areas. 3.8 Multi-frequency IFSAR for forest inventory applications. 3.9 Conclusions.- 4. Forest information systems. 4.1 Introduction. 4.2 The nature of information. 4.3 The nature of forest information systems. 4.4 A typology of forest information systems. 4.4.1 Monitoring and control systems. 4.4.2 Conventional information systems. 4.4.3 Evaluation and analysis systems. 4.4.4 Decision-support systems. 4.4.5 Integrated information systems. 4.5 Methodological components of information systems. 4.5.1 Database systems and geographic information systems. 4.5.2 Knowledge-based systems. 4.5.3 Modeling and simulation. 4.5.4 User interfaces and software ergonomics. 4.5.5 Computer graphicsand visualization. 4.5.6 Artificial neural networks and fuzzy logic. 4.5.7 Integration. 4.5.8 Other relevant methods. 4.6 Conclusions.- 5. Road and harvesting planning and operations. 5.1 Introduction. 5.2 Forest road design and location planning. 5.3 Harvest planning. 5.4 Harvesting operations. 5.4.1 Computer simulation. 5.4.2 Real-time decision making - optimizing in-woods log processing. 5.5 Road operations. 5.6 Concluding comments.- 6. Forest simulation models. 6.1 Introduction. 6.2 Forest simulation models. 6.2.1 Forest growth and yield models. 6.2.2 Forest succession models (gap models). 6.2.3 Forest process-based models. 6.2.4 Hybrid models. 6.3. Application of forest simulation models: Four case studies in Canada. 6.3.1 Case I: Red pine (Pinus resinosa) density management diagram for Ontario. 6.3.2 Case II: Simulating effects of climate change on species composition of boreal ecosystem using FORSKA 2.0. 6.3.3 Case III: Simulating effect of climate change and fire disturbances on carbon dynamics of boreal forests using CENTURY 4.0. 6.3.4 Case IV: Predicting forest growth and yield of boreal forests in Northern Ontario using TRIPLEX1.0. 6.4 Challenges and directions. 6.4.1 Modeling ecosystem sustainability. 6.4.2 Diversified forest modeling approaches.- 7. Visualization with spatial data. 7.1 Introduction. 7.2 Visualization techniques. 7.3 Contemporary 3D visualization. 7.4 Visualization in forest planning. 7.4.1 Application areas of visualization tools. 7.4.2 Spatial data and visualization. 7.5 Examples of visualization. 7.6 Concluding remarks. 8. Computer-aided decision making. 8.1 Introduction. 8.2 Mathematical programming. 8.3 Expert systems. 8.4 Network-based models. 8.4.1 Artificial neural networks. 8.4.2 Bayesian belief networks. 8.4.3 Fuzzy logic networks. 8.5 Multicriteria methods. 8.5.1 Multi-attribute utility theory. 8.5.2 Analytic hierarchy process.