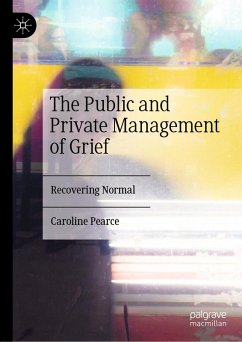 Andere Kunden interessierten sich
auch
für
The Public and Private Management of Grief looks at how 'recovery' is the prevailing discourse that measures and frames how people grieve, and considers what happens when people 'fail' to recover.

Pearce draws on in-depth interviews with bereaved people and a range of bereavement professionals, to contemplate how 'failures' to recover are socially perceived and acted upon. Grounded in Foucauldian theory, this book problematises the notion of recovery, and instead argues for the acknowledgment of the experience of 'non-recovery,' highlighting how recovery is a socially and historically constructed notion linked to the individualised vision of health and happiness promoted by neo-liberal governmentality.

This book will be of interest to students and scholars across sociology, anthropology, social work and psychology with a focus on death, dying and bereavement, grief studies, health and social care, as well as counsellors, clinical psychologists and social workers.


"A reading of The Public and Private Management of Grief: Recovering Normal pays off for those who are interested in the normalisation of emotions and want to learn more about the social containment of repressed and pathologised emotions. ... Especially for sociologists who deal with grief, mourning, and bereavement, this book should become a part of the required reading. And also for the practitioners in the area of grief recovery, a reading would be worthwhile ... ." (Ekkehard Knopke, Emotions and Society, Vol. 1 (2), 2019)