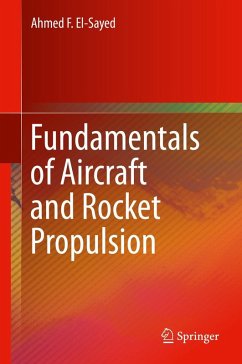 Andere Kunden interessierten sich
auch
für


Fundamentals of Aircraft and Rocket Propulsion provides information about and analyses of:

thermodynamic cycles of shaft engines (piston, turboprop, turboshaft and propfan);

jet engines (pulsejet, pulse detonation engine, ramjet, scramjet, turbojet and turbofan);

chemical and non-chemical rocket engines;

conceptual design of modular rocket engines (combustor, nozzle and turbopumps); and

conceptual design of different modules of aero-engines in their design and off-design state.

Aimed at graduate and final-year undergraduate students, this textbook provides a thorough grounding in the history and classification of both aircraft and rocket engines, important design features of all the engines detailed, and particular consideration of special aircraft such as unmanned aerial and short/vertical takeoff and landing aircraft. End-of-chapter exercises make this a valuable student resource, and the provision of a downloadable solutions manual will be of further benefit for course instructors.


Produktdetails
Verlag: Springer, Berlin
1st ed. 2016
Seitenzahl: 1010
Erscheinungstermin: 6. Juni 2016
Englisch
Abmessung: 241mm x 164mm x 48mm
Gewicht: 1584g
ISBN-13: 9781447167945
ISBN-10: 1447167945
Artikelnr.: 44371484
Classifications of Aircrafts and Propulsion Systems.- Basic Laws for Fluids; Performance Parameters of Jet Engines.- Piston Engines and Propellers.- Pulsejet, Ramjet, and Scramjet Engines.- Turbojet, Turbofan, and Turboramjet Engines.- Shaft Engines.- Stationary Modules of Airbreathing Engines.- Rotating Modules of Airbreathing Engines.- Special Topics.- Rockets; Rocket Engines.