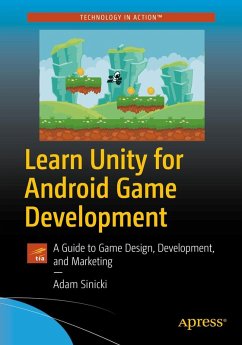 Andere Kunden interessierten sich
auch
für

The book closes with a brief introduction to creating 3D games, virtual reality games for the Gear VR, and other more advanced applications. It also provides some guidance on publishing and marketing, as well as thinking about game design and mechanics. Resources including sprites and scripts are provided in the code download.

What You Will Learn

Install Unity with the Android SDK

Understand and use scripts, prefabs and Android Studio

Design a great game

Build a game app

Add a bit of polish

Deploy for various Android devices

Build and deploy for 3D games, virtual reality and more

Promote your game and make money

Who This Book Is For
This book requires no previous experience with programming or game development of any kind. Prior experience with the Android ecosystem recommended.

Produktdetails
Verlag: Apress / Springer, Berlin
1st ed.
Erscheinungstermin: 22. Juli 2017
Englisch
Abmessung: 254mm x 178mm x 14mm
Gewicht: 546g
ISBN-13: 9781484227039
ISBN-10: 1484227034
Artikelnr.: 47494733
1: Why This is An Incredibly Exciting Time to Develop Games for Android 2: An Introduction to Unity and Getting Set Up 3: Finding Your Way Around Unity 4: Adding Physics and Getting Started With Coding 5: Filling the World with Prefabs, Effectors and Collectables 6: Adding Animation, Effects and the HUD 7: Making an Android App 8: Expanding the Game World With Checkpoints, Levels and Save Files 9: Adding More Game Elements - Springs, Moving Platforms, AI and More< 10: Making the Game Fun and Optimized 11: An Introduction to 3D Game Development and Virtual Reality 12: How to Publish and Promote Your Android App