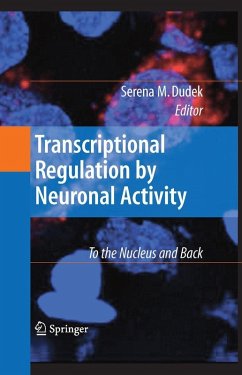 Andere Kunden interessierten sich
auch
für
---
Dieser Download kann aus rechtlichen Gründen nur mit Rechnungsadresse in A, B, BG, CY, CZ, D, DK, EW, E, FIN, F, GB, GR, HR, H, IRL, I, LT, L, LR, M, NL, PL, P, R, S, SLO, SK ausgeliefert werden.
Produktdetails
Verlag: Springer-Verlag GmbH
Erscheinungstermin: 24.11.2007
Englisch
ISBN-13: 9780387736099
Artikelnr.: 37288253
Preface.- Transcriptional Regulation of Activity-Dependent Genes by Birdsong.- To the Nucleus with Proteomics.- Transcriptional Regulation of the Tbr1-CASK-CINAP Protein Complex in Response to Neuronal Activity.- Intracellular Calcium Waves Transmit Synaptic Information to the Nucleus in Hippocampal Pyramidal Neurons.- Role of Action Potentials in Regulating Gene Transcription: Relevance to LTP.- L-type Channel Regulation of Gene Expression.- CREB-Dependent Transcription and Synaptic Plasticity.- Activity-Dependent Regulation of Brain-derived neurotrophic factor Transcription.- Role of Signal-responsive Class IIa Histone Deacetylases in Regulating Neuronal Activity-dependent Gene Expression.- NFAT-Dependent Gene Expression in the Nervous System: A Critical Mediator of Neurotrophin-Induced Plasticity.- Activity-Dependent Bigenomic Transcriptional Regulation of Cytochrome c Oxidase in Neurons.- Not Just for Muscle Anymore: Activity and Calcium Regulation of MEF2-Dependent Transcription in Neuronal Survival and Differentiation.- Synaptic Growth and Transcriptional Regulation in Drosophila.- MMP-9/TIMP-1 extracellular proteolytic system as AP-1 target in response to neuronal activity.- Activity-dependent Gene Transcription in Neurons: Defining the Plasticity Transcriptome.- Transcriptional Mechanisms Underlying the Mammalian Circadian Clock.- Intersecting Genetics with Lifestyle: the Role of Exercise and Diet in Synaptic Plasticity and Cognitive Enhancement.- CREB Responsive Transcription and Memory Formation.- Dynamic Transcription of the Immediate-Early Gene Arc in Hippocampal Neuronal Networks: Insights into the Molecular and Cellular Bases of Memory Formation.- Index.