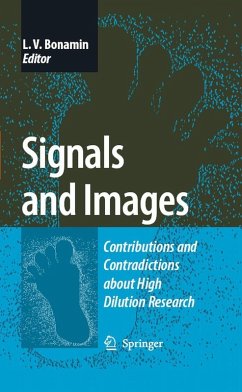 Andere Kunden interessierten sich
auch
für
---
Dieser Download kann aus rechtlichen Gründen nur mit Rechnungsadresse in A, B, BG, CY, CZ, D, DK, EW, E, FIN, F, GR, HR, H, IRL, I, LT, L, LR, M, NL, PL, P, R, S, SLO, SK ausgeliefert werden.
Produktdetails
Verlag: Springer-Verlag GmbH
Erscheinungstermin: 29.07.2008
Englisch
ISBN-13: 9781402085352
Artikelnr.: 37357792
Preface. Part One: Epistemology. Part One: Epistemology. 1 Research on ultra-dilutions and the Theory of Corporeal Signifiers: the follow up; Leoni Villano Bonamin, Agnès Lagache, Madeleine Bastide (in memorian). Part two: Basic Research - Physics. 2 Theoretical and physical-chemical models for potentized systems: validation criteria; Carlos Renato Zacharias. 3. Mechanical versus handmade succussions: a physical chemistry comparison; Carla Holandino, Felipe Dias Leal, Bianca de Oliveira Barcellos, Maria Augusta Campos, Raíza Oliveira, Venício Feo da Veiga, Sheila Garcia, Carlos Renato Zacharia. 4. Water and high dilutions phenomenology: electrical characterization; Adriana Ramos de Miranda. Part three: Basic Research - Biology 5. Non-linearity modeling of ultra-dilutions: the histamine disturbances case; Guadalupe Ruiz-Vega, Gabino Estevez-Delgado. 6 Hepatic cell growth models for the study of ultra high dilutions; Kátia Silva Martinho, Vanessa Del Bianco de Bento, Graziella Ulbricht Benvenga, Viviane Aparecida Marcondes, Leoni Villano Bonamin. 7 Models with plants, microorganisms and viruses for basic research in homeopathy; Lucietta Betti, Grazia Trebbi, Daniele Nani, Vera Majewsky, Claudia Scherr, Tim Jäger, Stephan Baumgartner. 8 Arnica montana and behavior of connective tissue; Leoni Villano Bonamin. 9 How living organisms detect very low doses? A new approach to homeopathy and hormesis; Elzbieta Malarczyk. 10 The effect of homeopathically prepared Thyroxin (10-30 parts by weight) on highland frogs: influence of electromagnetic fields; Sabrina Weber, Peter Christian Endler, Sonja U Welles, Erika Suanjak-Traidl, Waltraud Scherer-Pongratz, Michael Frass, Heinz Spranger, Gerhard Peithner, Harald Lothaller. Part four: Clinical Research 11. Clinical verification of homeopathic symptoms: experience and statistics; Lex Rutten, Michel van Wassenhoven. Part five: Veterinary Research and Practice. 12 Homeopathic VeterinaryClinical Protocol; Luiz Figueira Pinto. Epilogue. 13 Some reflections about the interest of non-conventional medicine in public health, especially homeopathy; Catherine Gaucher.