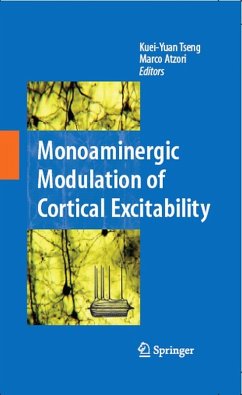 Andere Kunden interessierten sich
auch
für
---
Dieser Download kann aus rechtlichen Gründen nur mit Rechnungsadresse in A, B, BG, CY, CZ, D, DK, EW, E, FIN, F, GB, GR, HR, H, IRL, I, LT, L, LR, M, NL, PL, P, R, S, SLO, SK ausgeliefert werden.
Produktdetails
Verlag: Springer-Verlag GmbH
Erscheinungstermin: 24.08.2007
Englisch
ISBN-13: 9780387722566
Artikelnr.: 37286816
Section I Anatomical Studies of the Monoaminergic System: The Discovery of Multiple Serotonin Receptor Subtypes: A Lesson from Molecular Cloning to Functional Expression.- Distribution of D1-like and D2 Receptors in the Monkey Brain: Implications for Cognitive function in Schizophrenia.- Anatomical Characteristics of Norepinephrine Axons in the Prefrontal Cortex: Unexpected Findings That May Indicate Low Activity State in Naïve Animals.- Section II Monoaminergic Regulation of Cortical Function: Serotonin Modulation of Cortical Activity.- Serotonerigic Regulation of NMDA Receptor Trafficking and Function in Prefrontal Cortex.- Cross-Modulation Between GABAB and 5-HT Receptors: A Link Between Anxiety and Depression?- Serotonin Involvement in Plasticity of the Visual Cortex.- Cellular Mechanisms of Working Memory and its Modulation by Dopamine in the Prefrontal Cortex of Primates and Rats.- Dopamine D1 and Glutamate N-Methyl-D-Aspartate Receptors: An Essential Interplay in Prefrontal Cortex Synaptic Plasticity.- Prefrontal Cortical Synaptic Plasticity: The Roles of Dopamine and Implication for Schizophrenia.- Acquiring the Excitatory and the Inhibitory Action of Dopamine in the Prefrontal Cortex During Postnatal Development.- Dopamine and Noradrenaline Coupling in the Cerebral Cortex.- Regulation of Cortical Functions by the Central Noradrenergic System: Emerging Properties from an Old Friend.- Neuromodulation of Cortical Synaptic Plasticity.- Section III Computational Analyses of Cortical Monoaminergic Function: Dopaminergic Modulation of Prefrontal Cortex Network Dynamics.- Stable and Unstable Activation of the Prefrontal Cortex with Dopaminergic Modulation.- Dopamine and Norepinephrine Modulation of Cortical and Sub-Cortical Dynamics During Visuomotor Learning.- Section IV Monoamines and Psychiatric Disorders: Basal Ganglia - Cortex Interactions: Regulation of Cortical Function by D1 DopamineReceptors in the Striatum.- Interplay Between Dopamine and Acetylcholine in the Modulation of Attention.- Monoamine-Based Treatments in Schizophrenia: Time to Change the Paradigm?- Prefrontal Cortical Circuits and Schizophrenia Pathophysiology.- Index.