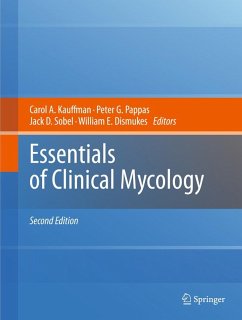 Andere Kunden interessierten sich
auch
für
Produktdetails
Verlag: Springer, Berlin
Originaltitel: Clinical Mycology
Artikelnr. des Verlages: 12455072
2nd ed.
Erscheinungstermin: Februar 2011
Englisch
Abmessung: 293mm x 225mm x 38mm
Gewicht: 1630g
ISBN-13: 9781441966391
ISBN-10: 1441966390
Artikelnr.: 29408840
PART I INTRODUCTION.
Laboratory Aspects of Medical Mycology.
Epidemiology of Systemic Fungal Diseases: Overview.
PART II SYSTEMIC ANTIFUNGAL DRUGS.
Amphotericin B.
Liposomal Nystatin.
Flucytosine.
Azole Antifungal Drugs.
Cell Wall Synthesis Inhibitors: Echinocandins and Nikkomycins.
Terbinafine.
Resistance to Antifungal Drugs.
Adjunctive Antifungal Therapy.
PART III MYCOSES CAUSED BY YEASTS.
Candidiasis.
Cryptococcosis.
Rhodotorula, Malassezia, Trichosporon, and Other Yeast
Like Fungi.
PART IV MYCOSES CAUSED BY MOULDS.
Aspergillosis.
Zygomycoses.
Hyalohyphomycoses (other than Aspergillosis and Penicilliosis).
Phaeohyphomycoses.
PART V MYCOSES CAUSED BY DIMORPHIC FUNGI.
Histoplasmosis.
Blastomycosis.
Coccidioidomycosis.
Paracoccidioidomycosis.
Sporotrichosis.
Penicilliosis.
PART VI MYCOLOGY INVOLVING SKIN AND SUBCUTANEOUS TISSUES.
Superficial Cutaneous Fungal Infections.
Eumycetoma.
Chromoblastomycosis.
PART VII OTHER MYCOSES.
Pneumocystosis.
Miscellaneous Fungi.
PART VIII SPECIAL PATIENT POPULATIONS.
Fungal Infections in Neutropenic Patients.
Fungal Infections in Blood and Marrow Transplant Recipients.
Fungal Infections in Solid Organ Transplant Recipients.
Fungal Infections among Patients with AIDS.

REVIEWS OF FIRST EDITION:

From the New England Journal of Medicine, June 24, 2004

About 40 years ago, when I started seeing patients in my specialty of infectious diseases, systemic fungal infections were relatively uncommon. The literature consisted mostly of case reports and uncontrolled descriptive studies, and little time was given to discussing clinical mycology at national meetings. Times have changed. Clinical mycology could almost warrant a subspecialty designation because of the number of patients who are infected, the expansion of literature that deals with the basic mechanism of pathogenesis and virulence of fungal infections, and the number of controlled clinical studies on the topic. Forty years ago, the only drug that was available to treat systemic fungal infections was amphotericin B. In 2004, at least 10 antifungal agents are approved to treat systemic infections (not counting combinations), and more drugs are in the pipeline. (Figure) This relatively recent explosion of literature on mycology clearly needs to be brought together into one sourcebook. Dismukes, Pappas, and Sobel have succeeded in doing this in a splendid fashion. Dismukes and Pappas have been conducting clinical studies on antifungal agents for many years as participants in the Bacteriology and Mycology Study Group, sponsored by the National Institute of Allergy and Infectious Diseases. Dr. Sobel is a leading clinical investigator focusing on candida infections. The three editors have assembled an impressive list of contributors to put together a well-written, informative textbook about all of the important systemic and superficial fungal infections. This book is oriented toward the clinician. The general section on medical mycology is brief, as is the general section on epidemiology. That is probably as it should be in a book that is focused on clinical mycology. The chapter on laboratory aspects of medical mycology would have been helped by a table or a figure summarizing general taxonomy. The excellent section on systemic antifungal drugs is up to date and complete -- and the tables summarizing the options for treatment are particularly helpful. Many of the recommendations are repeated in the chapters on individual mycoses, but repetition is good when it emphasizes important points in diagnosis and therapy. Clinical studies and treatment guidelines for the individual groups of infections are summarized in easy-to-read tables. In every case, the recommendations are reasonable and consistent with the source literature, and the editing is excellent. The section that describes special populations of patients who are highly susceptible to systemic fungal infections emphasizes the book's clinical orientation and answers all the important questions about epidemiology, diagnosis, prophylaxis, and treatment. Minor points to mention are that the chapters dealing with medical mycology and epidemiology are the least useful ones and could be combined. The color photographs of patients with various fungal diseases are excellent but would be more helpful if they were incorporated into the relevant chapters. As I read the book, I wondered whether experts in the field could learn something from it. My answer is yes. Old material is reviewed, and the authors' conclusions and recommendations are reasonable. The book also presents material that was new to me, even in areas in which I have a special interest. This textbook will be very useful to any specialist in infectious diseases or to any physician who cares for immunodeficient patients. It will greatly add to the information covered by standard textbooks on medicine and infectious diseases and will answer many questions that are now the subject of Internet searches. I look forward to using it extensively in my practice. Gerald Medoff, M.D.

Copyright © 2004 Massachusetts Medical Society. All rights reserved. The New England Journal of Medicine is a registered trademark of the MMS.

Review

"...this book can be recommended to all physicians interested in the treatment of fungal infections. It is informative and provides a sound basis of knowledge for diagnosis and treatment of fungal infections." -- CID

"This relatively recent explosion of literature on mycology clearly needs to be brought together into one sourcebook. Dismukes, Pappas, and Sobel have succeeded in doing this in a splendid fashion. This textbook will be very useful to any specialist in infectious disease..." -- New England Journal of Medicine

"An up-to-date text on mycology featuring clinical descriptions, diagnostic and treatment issues. A great source on the subject." -- Journal of the American Association of Forensic Dentists

"Each chapter could stand alone as a definitive monograph on a fungal topic with references sufficiently current to rival leading periodicals. An insert of more than 100 color photographs is included, many of which are classic illustrations of the morphologic characteristics of important fungi or the manifestations of disease." -- Annals of Internal Medicine

From the reviews of the second edition:

"The new edition of this volume has been updated throughout and it remains one of the best single sources of information for an overview of the field of clinical mycology. Basic and clinical scientists will appreciate having this information all in one place. Fast-moving fields, such as studies of antifungals and of drug resistance have been updated, and other areas have been refreshed with current epidemiological and clinical information. ... this revised edition is an essential update in this area of medical microbiology." -- Neil Gow, Microbiology Today, February, 2012