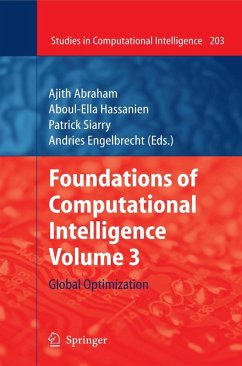 Andere Kunden interessierten sich
auch
für


Global Optimization algorithms may be categorized into several types: Deterministic (example: branch and bound methods), Stochastic optimization (example: simulated annealing). Heuristics and meta-heuristics (example: evolutionary algorithms) etc. Recently there has been a growing interest in combining global and local search strategies to solve more complicated optimization problems.

This edited volume comprises 17 chapters, including several overview Chapters, which provides an up-to-date and state-of-the art research covering the theory and algorithms of global optimization. Besides research articles and expository papers on theory and algorithms of global optimization, papers on numerical experiments and on real world applications were also encouraged. The book is divided into 2 main parts.


Produktdetails
Studies in Computational Intelligence 203
Softcover reprint of hardcover 1st ed. 2009
Seitenzahl: 540
Erscheinungstermin: 28. Oktober 2010
Englisch
Abmessung: 235mm x 155mm x 28mm
Gewicht: 804g
ISBN-13: 9783642101656
ISBN-10: 3642101658
Artikelnr.: 33372756
Global Optimization Algorithms: Theoretical Foundations and Perspectives.- Genetic Algorithms for the Use in Combinatorial Problems.- Bacterial Foraging Optimization Algorithm: Theoretical Foundations, Analysis, and Applications.- Global Optimization Using Harmony Search: Theoretical Foundations and Applications.- Hybrid GRASP Heuristics.- Particle Swarm Optimization: Performance Tuning and Empirical Analysis.- Tabu Search to Solve Real-Life Combinatorial Optimization Problems: A Case of Study.- Reformulations in Mathematical Programming: A Computational Approach.- Graph-Based Local Elimination Algorithms in Discrete Optimization.- Evolutionary Approach to Solving Non-stationary Dynamic Multi-Objective Problems.- Turbulent Particle Swarm Optimization Using Fuzzy Parameter Tuning.- Global Optimization Algorithms: Applications.- An Evolutionary Approximation for the Coefficients of Decision Functions within a Support Vector Machine Learning Strategy.- Evolutionary Computing in Statistical Data Analysis.- Meta-heuristics for System Design Engineering.- Transgenetic Algorithm: A New Endosymbiotic Approach for Evolutionary Algorithms.- Multi-objective Team Forming Optimization for Integrated Product Development Projects.- Genetic Algorithms for Task Scheduling Problem.- PSO_Bounds: A New Hybridization Technique of PSO and EDAs.