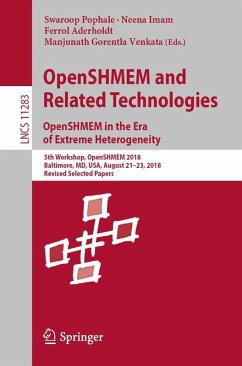 Andere Kunden interessierten sich
auch
für


The 14 full papers presented in this book were carefully reviewed and selected for inclusion in this volume. The papers discuss a variety of ideas for extending the OpenSHMEM specification and discuss a variety of concepts, including interesting use of OpenSHMEM in HOOVER - a distributed, flexible, and scalable streaming graph processor and scaling OpenSHMEM to handle massively parallel processor arrays. The papers are organized in the following topical sections: OpenSHMEM library extensions and implementations; OpenSHMEM use and applications; and OpenSHMEM simulators, tools, and benchmarks.


Produktdetails
Lecture Notes in Computer Science 11283
Artikelnr. des Verlages: 978-3-030-04917-1
1st ed. 2019
Seitenzahl: 228
Erscheinungstermin: 19. März 2019
Englisch
Abmessung: 235mm x 155mm x 12mm
Gewicht: 358g
ISBN-13: 9783030049171
ISBN-10: 3030049175
Artikelnr.: 54408568
OpenSHMEM Library Extensions and Implementations.- OpenSHMEM Sets and Groups: An Approach to Worksharing and Memory Management.- Design and Optimization of OpenSHMEM 1.4 for the Intel® Omni-Path Fabric 100 Series.- Introducing Cray OpenSHMEMX - A Modular Multi-Communication Layer OpenSHMEM Implementation .- An Initial Implementation of Libfabric Conduit for OpenSHMEM-X.- The OpenFAM API: A Programming Model for Disaggregated Persistent Memory.- SHCOLL - A Standalone Implementation of OpenSHMEM-style Collectives API.- OpenSHMEM Use and Applications.- HOOVER: Distributed, Flexible, and Scalable Streaming Graph Processing on OpenSHMEM.- Tumbling Down the GraphBLAS Rabbit Hole with SHMEM.- Scaling OpenSHMEM for Massively Parallel Processor Arrays.- Designing High-Performance In-Memory Key-Value Operations with Persistent GPU Kernels and OpenSHMEM.- OpenSHMEM Simulators, Tools, and Benchmarks.- Towards Lightweight and Scalable Simulation of Large-Scale OpenSHMEM Applications.- Tracking Memory Usage in OpenSHMEM Runtimes with the TAU Performance System.- Lightweight Instrumentation and Analysis using OpenSHMEM Performance Counters.- Oak Ridge OpenSHMEM Benchmark Suite.