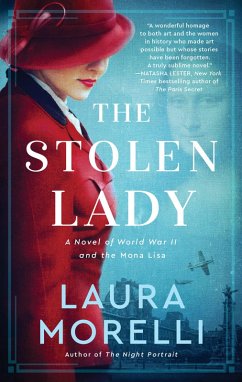 Geräte: eReader

mit Kopierschutz

Größe: 9.83MB

FamilySharing(5)
Andere Kunden interessierten sich
auch
für
From the acclaimed author of The Night Portrait comes a stunning historical novel about two women, separated by five hundred years, who each hide Leonardo da Vinci's Mona Lisawith unintended consequences.France, 1939
At the dawn of World War II, Anne Guichard, a young archivist employed at the Louvre, arrives home to find her brother missing. While she works to discover his whereabouts, refugees begin flooding into Paris and German artillery fire rattles the city. Once they reach the city, the Nazis will stop at nothing to get their hands on the Louvre's art collection. Anne is quickly sent to the Castle of Chambord, where the Louvre's most precious artworksincluding the
Mona Lisa
are being transferred to ensure their safety. With the Germans hard on their heels, Anne frantically moves the
Mona Lisa
and other treasures again and again in an elaborate game of hide and seek. As the threat to the masterpieces and her life grows closer, Anne also begins to learn the truth about her brother and the role he plays in this dangerous game.
Florence, 1479
House servant Bellina Sardi's future seems fixed when she accompanies her newly married mistress, Lisa Gherardini, to her home across the Arno. Lisa's husband, a prosperous silk merchant, is aligned with the powerful Medici, his home filled with luxuries and treasures. But soon, Bellina finds herself bewitched by a charismatic monk who has urged Florentines to rise up against the Medici and to empty their homes of the riches and jewels her new employer prizes. When Master Leonardo da Vinci is commissioned to paint a portrait of Lisa, Bellina finds herself tasked with hiding an impossible secret.
When art and war collide, Leonardo da Vinci, his beautiful subject Lisa, and the portrait find themselves in the crosshairs of history.
---
Dieser Download kann aus rechtlichen Gründen nur mit Rechnungsadresse in A, B, BG, CY, CZ, D, DK, EW, E, FIN, F, GR, HR, H, I, LT, L, LR, M, NL, PL, P, R, S, SLO, SK ausgeliefert werden.
"Like the masterpiece she writes about, Laura Morelli has created a work of art that is impossible to forget. With beautifully rendered settings, expertly drawn characters and a storyline that immersed me from the very first page, The Stolen Lady is a wonderful homage to both art and the women in history who made art possible, but whose stories have been forgotten. A truly sublime novel." - Natasha Lester, New York Times bestselling author of The Paris Secret

"The Stolen Lady is a beautifully written, must-read story of the incredible journey of the Mona Lisa set amid two turbulent times in history. Laura Morelli offers a well-researched and richly told tale that captivated my attention from the first page." - Madeline Martin, New York Times bestselling author of The Last Bookshop in London

In The Stolen Lady, Laura Morelli weaves together the stories of two remarkable women, separated by more than 400 years, who each find a touchstone for their lives in a singular masterpiece: da Vinci's Mona Lisa. The result is a novel that has as many layers as a beautiful renaissance painting . . . and is as enthralling. From 16th century Florence in the grasp of perilous dynastic and artistic rivalries to WWII France where a handful of intrepid employees scramble to keep the Louvre's masterpieces from Nazi hands, The Stolen Lady takes readers on a vicarious journey centered on art, courage, and how each can inspire the other. It's a lesson as timeless as Mona Lisa's mysterious smile. - Sophie Perinot, author of Médicis Daughter

"If you liked Laura's Morelli's The Night Portrait, you'll love The Stolen Lady. Morelli once again spins an unforgettable, page-turning tale of art history-this time about Leonardo da Vinci's The Mona Lisa. With exquisite historical details, surprising plot twists, and unforgettable characters who commit extraordinary acts of bravery to create and protect art, The Stolen Lady entertains while giving readers a whole new perspective on the world's most famous painting." - Stephanie Storey, bestselling author of Oil and Marble: A Novel of Leonardo & Michelangelo and Raphael, Painter in Rome

I was transported to Renaissance Italy and WWII France. Morelli perfectly ties the centuries together with the story of a work of art that lives on past the artist and his subject. You'll never look at the Mona Lisa the same way. Morelli breathes life into the grinning woman on the wall, Mona Lisa. She paints a narrative of two centuries, connected by a piece of art that will outlive us all. A stunning accomplishment! Brava, Laura! - Jennifer Anton, Author of Under the Light of the Italian Moon

"Laura Morelli paints another masterpiece with her gripping, powerful, and beautifully written tale of the most famous painting in the world. This is a page-turner of a book, whether you are savoring the origins of DaVinci's Mona Lisa, or cheering the heroic actions of the Louvre workers trying to prevent its theft by the Nazis in WWII. The Stolen Lady is a truly exceptional read." - Crystal King, author of The Chef's Secret

"In a brilliantly written narrative that deftly cuts back and forth between the 15th and the 20th centuries, Morelli brings to vivid life the attempts by a German art restorer and an American soldier to rescue works of art from the destruction of war. This is a compelling story of two heroic people, of the young Cecelia who posed for Da Vinci, the artist, and the times they lived in. I am left with an affirmation of the crucial importance of art to a culture and the power of individual action."
- Frances Mayes, #1 New York Times bestselling author of Under the Tuscan Sun and Women in Sunlight, on The Night Portrait

"Morelli (The Night Portrait) delivers a sprawling saga of magnetic parallel stories involving the Mona Lisa... [She] makes both story lines richly drawn, revealing the remarkable fortitude of two women who saved a masterpiece, each during a moment of upheaval. This will pull in readers from the very first page." - Publishers Weekly

"The Stolen Lady is a compelling novel about not only what it takes to create art, but also what it takes to preserve it for future generations in the face of war, violence, and strife. Laura Morelli is second to none in her attention to detail in the realm of art history. I promise you that you'll never look at the Mona Lisa the same way again after reading this novel!" - Alyssa Palombo, author of The Most Beautiful Woman in Florence

"A fascinating glimpse into the history and mystery behind the woman painted in the most iconic portrait to date-Mona Lisa-and the harrowing lengths of which the staff of the Louvre went to keep her out of Nazi hands during WWII. This was a powerful and poignant ode to a classic work that might have disappeared from the world altogether, and the life of a woman who had no idea today we'd still be admiring her face." - Eliza Knight, USA Today bestselling author of the forthcoming The Mayfair Bookshop

"Two women, separated by centuries of time, each struggle against rising danger to protect not only treasures but secrets. The pace is cracking, the characters are intriguing, and the plot that connects them is clever. The Stolen Lady is a welcome addition to the historical fiction arena, and a special delight for readers who love novels based on art history." - Libbie Grant, author of The Prophet's Wife

Praise for The Night Portrait: "The Night Portrait by Laura Morelli, which links Renaissance Italy and the crucible of World War Two in the most absorbing and innovative fashion, is also a novel of profound emotional resonance. A respected art historian, Morelli brings an exceptional depth of research and understanding to a story already made memorable by her beautiful prose. This is a truly original novel that has earned its place among my favorite works of historical fiction." - Jennifer Robson, bestselling author of Our Darkest Night

"Laura Morelli's The Night Portrait is simply a masterpiece. Morelli imagines a sophisticated plot, fleshes it out with historically significant characters, and spins it into a truly spectacular read. Rarely have I been so caught up in a book as I was with this unforgettable tale of bravery and love, hope and redemption. Fans of Kristin Hannah's The Nightingale and Anthony Doerr's All the Light We Cannot See will delight in this epic novel." - Lori Nelson Spielman, international bestselling author

"Laura Morelli's The Night Portrait is a gorgeous and propulsive novel that brings to dramatic life the stories of Leonardo da Vinci, the subject of one of his most famous paintings, and the Monuments Men's quest to rescue that masterpiece from the Nazis during World War II. This stunning novel is a great masterpiece on its own, making you see old stories-and old art-in fresh, new ways. Perfect for any art lover or anyone who wants to understand why we all must care about the history of art." - Stephanie Storey, author of Oil and Marble and Raphael, Painter in Rome

"The Night Portrait is an astonishing, epic tale that seamlessly spans centuries of history and art, encompassing the beauty of the Renaissance and the horrible truths of Nazi Germany. Masterfully imagined and unforgettable, this riveting novel shows us the power of art to bring hope in a world of despair." - Crystal King, author of The Chef's Secret

"The Night Portrait is a compelling page turner at the same time as it is a mesmerizing meditation on legacy, guilt and complicity, the horrors of war, and most of all, the singular power of art. This well-researched and vivid novel is sure to thrill history buffs and art lovers alike." - Alyssa Palombo, author of The Borgia Confessions