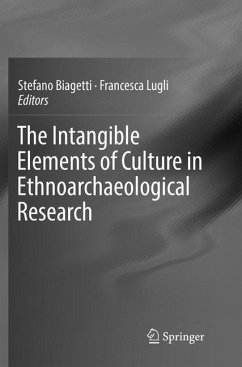 Andere Kunden interessierten sich
auch
für

The volume includes a series of new approaches that can foster the dialogue between archaeology and anthropology in the domain of the intangible knowledge of rural and urban communities. The role of ethnoarchaeology in the study of the intangible heritage is so far largely underexplored, and there is a considerable lack of ethnoarchaeological studies explicitly focused on the less tangible evidence of present and past societies. Fresh case studies will revitalize the theoretical debate around ethnoarchaeology and its applicability in the archaeological and heritage research in the new millennium.
Over the past decade, 'intangible' has become a key word in anthropological research and in heritage management. Archaeological theories and methods regarding the explorations of the meaning and the significance of artifacts, resources, and settlement patterns are increasingly focusing on non-material evidence. Due to its peculiar characteristics, ethnoarchaeology can effectively foster the development of the study of the intangible cultural heritage of living societies, and highlight its relevance to the study of those of the past.
Produktdetails
Artikelnr. des Verlages: 978-3-319-79452-5
Softcover reprint of the original 1st ed. 2016
Seitenzahl: 344
Erscheinungstermin: 26. Mai 2018
Englisch
Abmessung: 235mm x 155mm x 18mm
Gewicht: 5212g
ISBN-13: 9783319794525
ISBN-10: 3319794523
Artikelnr.: 53571868
Introduction (Stefano Biagetti and Francesca Lugli).- Part 1: Essays.- Chapter 1: A plea for general anthropology (Alain Gallay).- Chapter 2: Ethnoarchaeology of the intangible culture: a trajectory towards Palaeoethnology as a global discipline? (Alberto Cazzella).- Chapter 3: The production and circulation of Alpine jade axe-heads during the European Neolithic: ethnoarchaeological bases of their interpretation (Pierre Pétrequin and Anne-Marie Pétrequin).- Chapter 4: Ethnoarchaeology: a conceptual and practical bridging of the intangible and tangible cultural heritage divide (Paul Lane).- Chapter 5: To think in the sign of the plant. To think in the sign of the plough. To think in the sign of carbon. How cultivation recreates the world. (G. Forni).- Part 2: Case Studies.- Chapter 6: An intangible knowledge of landscape: creating people and politically charged places in northern Ethiopia (Diane Lyons).- Chapter 7: Secondary products exploitation: preliminary ethnoarchaeological insights from alpine cases study (Francesco Carrer).- Chapter 8: Mongolian nomads and their dogs (Francesca Lugli).- Chapter 9: Made in desert: evaluating the role of traditional knowledge for the adaptation to arid environment in central Sahara (Stefano Biagetti).- Chapter 10: 3000 ans de nomadisme sur le site de Tsatsyn Ereg au centre de la Mongolie (Irene Baroni, Jamyian-Ombo Gantulga, Jérôme Magail, Chimiddorj Yeruul-Erdene).- Chapter 11: The pastoral writings of the Fiemme valley (1650-1950). Lapidary vs. extemporaneous expressions (Marta Bazzanella, Giovanni Kezich, Luca Pisoni).- Chapter 12: The use of the senses in the technical processes of resin tapping and wood tar making: an ethno-archaeological approach (Sylvain Burri and Aline Durand).- Chapter 13: Craft production and capitalism: Intangible interfaces (Jerimy J. Cunningham).- Chapter 14: God Will Help You: Sadaka Gifting in Northern Ghana (Joanna Casey).- Chapter 15: Prehistoric anthropomorphic figurines with masks as the basis for the Kuker's ritual in Bulgarian folklore (Malgorzata Grebska-Kulow).- Chapter 16: Stone toys and games among Mongol children (G.Nandinbilig).- Chapter 17: Not just fuel: Food and technology from trees and shrubs in Falia, Saloum Delta (Senegal) (Raquel Piqué, Mathieu Gueye, Karen Hardy, Abdoulaye Camara, Edmond Dioh).- Chapter 18: Romanian salt springs, intangible cultural heritage, archaeological reconstruction: a variable geometry (Marius Alexianu, Olivier Weller, Robin Brigand).- Chapter 19: Sickles and forks: traditional rural knowledge of agricultural practises and its possible applications in archaeology (Javier Ruiz-Pérez, Carla Lancelotti, Bernardo Rondelli, Marco Madella, Juan Jose García-Granero, Leonor Peña-Chocarro).- Chapter 20: Residue analysis of the floors of a charcoal burner's hut at Naour (Morocco) (Alessandra Pecci, Sylvain Burri, Aline Durand, Fernanda Inserra, Miguel Ángel Cau Ontiveros).- Chapter 21: A thousand years old pottery knowledge in Andalusia: The popular tradition as a built bridge with the past. (Juan Jesús Padilla Fernández).- Chapter 22: Le torchis de la France du Nord : étude ethnoarchéologique sur la variabilité technique et les processus de dégradation (Alessandro Peinetti).- Chapter 23. The intangible weight of things: approximate nominal weights in modern society (Nicola Ialongo, Alessandro Vanzetti).- Chapter 24 Inequalities in "egalitarian" societies: the calculation of real value as a way to visualize social distance. (Manuela Pérez-Rodríguez, Assumpció Vila-Mitja, Jordi Estévez-Escalera).- Chapter 25: African-European Archaeology: The material resistance and political struggle of the Rosarno African Workers (Italy). (Luca Pisoni).- Chapter 26: The manufacture of traditional bread-baking pans: ethnoarchaeology and the safeguarding of intangible heritage. (Biljana Djordjevic).