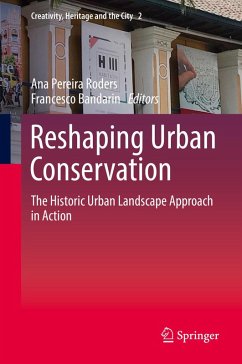 Andere Kunden interessierten sich
auch
für
This volume focuses on the implementation of the 2011 UNESCO Recommendation on the Historic Urban Landscape (HUL approach), designed to foster the integration of heritage management in regional and urban planning and management, and strengthen the role of heritage in sustainable urban development.
Earlier publications and research looked at the underlying theory of why the HUL approach was needed and how this theory was developed and elaborated by UNESCO. A comprehensive analysis was carried out in consultation with a multitude of actors in the twenty-first-century urban scene and with disciplinary approaches that are available to heritage managers and practitioners to implement the HUL approach.
This volume aims to be empirical, describing, analyzing, and comparing 28 cities taken as case studies to implement the HUL approach. From those cases, many lessons can be learned and much guidance shared on best practices concerning what can be done to make the HUL approach work.
Whereas the previous studies served to illustrate issues and challenges, in this volume the studies point to innovations in regional and urban planning and management that can allow cities to avoid major conflicts and to further develop in competitiveness. These accomplishments have been possible by building partnerships, devising financial strategies, and using heritage as a key resource in sustainable urban development, to name but a few effective strategies.
For these reasons, this volume is primarily pragmatic, linked to the daily work and challenges of practitioners and administrators, using specific cases to assess what was and is good about current practices and what can be improved, in accordance with the HUL approach and aims.
---
Dieser Download kann aus rechtlichen Gründen nur mit Rechnungsadresse in A, B, BG, CY, CZ, D, DK, EW, E, FIN, F, GB, GR, HR, H, IRL, I, LT, L, LR, M, NL, PL, P, R, S, SLO, SK ausgeliefert werden.
Produktdetails
Verlag: Springer-Verlag GmbH
Erscheinungstermin: 07.02.2019
Englisch
ISBN-13: 9789811088872
Artikelnr.: 56815168
One recommendation, five years (Francesco Bandarin and Ana Pereira Roders).- Africa.- 1. Cape Town, South Africa (Albrecht Herholdt and Stephen Townsend).- 2. Island of Mozambique, Mozambique (Solange Macamo and Albino Jopela).- 3. Lamu, Kenya (Salim Bunu and Arthur Chen).- 4. Zanzibar, Tanzania (Muhammad Juma and Mike Turner).- 5. Djenné, Mali (Annette Schmidt en Pierre Maas).- Arab States.- 6. Cairo, Egypt (Alah el-Habashi).- 7. Rabat, Morocco (Hassan Radoine).- 8. Damascus, Syria (Ataa Alsalloum).- 9. Zabid, Yemen (Cristina Iamandi).- 10. Kuwait City, Kywait (Roha Khalaf and Christina Cameron).- Asia and the Pacific.- 11. Ballarat, Australia (Susan Fayad and Kristal Buckley).- 12. Bangalore, India (Jyoti Hosagrahar).- 13. Lhasa, China (Gamini Wijesuriya).- 14. Samarkand, Uzbekistan (Ona Vileikis and Koen van Balen).- 15. Bangkok, Thailand (Ken Taylor).- Europe and North America.- 16. Amsterdam, The Netherlands (Loes Veldpaus and Johan Swart).- 17. Edinburgh, Scotland (Adam Wilkinson and Dennis Rodwell).- 18. Naples, Italy (Mariarosaria Angrisano and Luigi Girard).- 19. New Orleans, USA (Patricia O'Donnell and Julian Smith).- 20. Regensburg, Germany (Matthias Ripp and Susanne Hauer).- Latin America and the Caribbean.- 21. Cuenca, Equator (Maria Eugenia Siguencia Avila and Julia Rey Perez).- 22. Havana, Cuba (Pablo Fornet Gil and Julio Cesar Perez).- 23. Mexico, Mexico (Deniz Ikiz, Aylin Orbasli and Marcel Vellinga).- 24. San Salvador de Bahia, Brazil (Silvio Zancheti).- 25. Bogotá, Colombia (Juliana Forero Bordamalo).- Twenty-five cities, hundred lessons (Ana Pereira Roders and Francesco Bandarin).