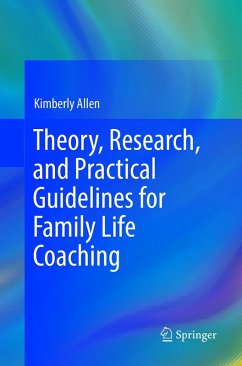 Produktdetails
Artikelnr. des Verlages: .978-3-319-80544-3
Softcover reprint of the original 1st ed. 2016
Seitenzahl: 272
Erscheinungstermin: 30. Mai 2018
Englisch
Abmessung: 235mm x 155mm x 14mm
Gewicht: 4161g
ISBN-13: 9783319805443
ISBN-10: 3319805444
Artikelnr.: 53572404
Chapter 1: Why a Book on Family Coaching? PART I: BACKGROUND AND THEORETICAL OVERVIEW.- Chapter 2: Roots of Coaching: Coaching Psychology Research and Practice.- Chapter3: Roots of Family: Family Science Research and Practice.- Chapter 4: Theory to Practice: Review of Theoretical Applications to Coaching.- PART II: APPLICATION AND SKILL DEVELOPMENT.- Chapter 5: How to Coach Families.- Chapter 6: Intakes. Chapter 7: Assessments.- Chapter 8: Powerful Questions.- PART III: TYPES OF FAMILY COACHING.- Chapter 9: Relationship Coaching.- Chapter 10: Parenting Coaching.- Chapter 11: Coaching for Special Needs.- Chapter 12: Coaching: Where Do You Belong? Chapter 13: Building a Coaching Business.