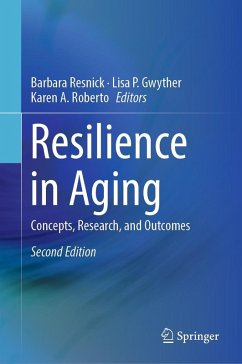 Andere Kunden interessierten sich
auch
für
nd
Edition continues to offer evidence-based theory, clinical guidelines, and new and updated case examples and real-world interventions so professional readers can make the best use of this powerful tool. The critical insights in this volume are concluded with a discussion of future directions on optimizing resilience and the importance of a lifespan approach to the critical component of aging. The book's coverage extends across disciplines and domains, including:
Resilience and personality disorders in older age.
Cultural and ethnic perspectives on enhancing resilience in aging
Sustained by the sacred: religious and spiritual factors for resilience in adulthood and aging.
Building resilience in persons with early-stage dementia and their care partners.
Interdisciplinary geriatric mental health resilience interventions.
Developing resilience in the aged and dementia care workforce.
Using technology to enhance resilience among older adults.
This wide-ranging and updated lifespan approach gives Resilience in Aging, 2
nd
Edition particular relevance to the gamut of practitioners in gerontology and geriatrics, including health psychologists, neuropsychologists, clinical psychologists, psychiatrists, social workers, geriatricians, family physicians, nurses, occupational and physical therapists, among others.
---
Dieser Download kann aus rechtlichen Gründen nur mit Rechnungsadresse in A, B, BG, CY, CZ, D, DK, EW, E, FIN, F, GR, HR, H, IRL, I, LT, L, LR, M, NL, PL, P, R, S, SLO, SK ausgeliefert werden.
Produktdetails
Verlag: Springer-Verlag GmbH
Seitenzahl: 420
Erscheinungstermin: 27. Dezember 2018
Englisch
ISBN-13: 9783030045555
Artikelnr.: 56819176
Chapter 1: Definition of Resilience.- Chapter 2: Successful Aging and Resilience: Applications for Public Health, Healthcare, and Policy.- Chapter 3: Resilience and Personality Disorders in Older Age.- Chapter 4: What Do We Know About Resilience in Older Adults? An Exploration of Some Facts, Factors, and Facets.- Chapter 5: Psychological Resilience.- Chapter 6: Physiological resilience and the Impact on Health.- Chapter 7: How the Arts and Humanities Can Help Older Persons with Dementia and Their Caregivers Be More Resilient.- Chapter 8: Cultural and Ethnic Perspectives on Enhancing Resilience in Aging.- Chapter 9: Volunteering in Later Life: Policies and Programs to Support a Resilient Aging Society.- Chapter 10: Sustained by the Sacred: Religious and Spiritual Factors for Resilience in Adulthood and Aging.- Chapter 11: Overcoming Stressful Experiences in Older Age.- Chapter 12: The Relationship Between Resilience and Motivation.- Chapter 13: Fostering Resilience in Dementia through Narratives: Contribution of Multimedia Technologies.- Chapter 14: Building Resilience in Persons with Early-Stage Dementia and Their Care Partners.- Chapter 15: Resilience and Faith for African American Caregivers.- Chapter 16: Promoting Resilience through Aging-Friendly Community Initiatives: Opportunities and Challenges.- Chapter 17: Promoting Resilience in Small-Scale, Homelike Residential Care Settings for Older People with Dementia: Experiences from the Netherlands and the United States.- Chapter 18: Interdisciplinary Geriatric Mental Health Resilience Interventions.- Chapter 19: Developing Resilience in the Aged and Dementia Care Workforce.- Chapter 20: Understanding Resilience of Adult Foster Care Providers.- Chapter 21: Using Technology to Enhance Resiliency among Older Adults.- Chapter 22: Conclusion: The Key to Successful Aging.

"This book is geared for older adults, geriatric healthcare professionals, and caregivers. The many contributors, as well as the authors, lend a level of expertise and creativity that is both authentic and useful. The book offers a variety of strategies for forging resilience in the aging process. ... this book presents a variety of options for looking at the aging life as positive growth rather than negative decline." (Wendy Boren, Doody's Book Reviews, May 10, 2019)