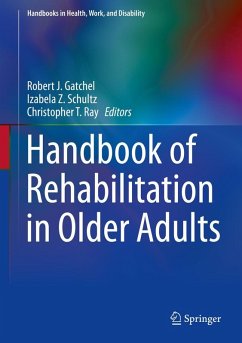 Produktdetails
Handbooks in Health, Work, and Disability
Artikelnr. des Verlages: .978-3-030-03915-8, 978-3-030-03915-8
1st ed. 2018
Erscheinungstermin: 8. März 2019
Englisch
Abmessung: 260mm x 184mm x 40mm
Gewicht: 1310g
ISBN-13: 9783030039158
ISBN-10: 3030039153
Artikelnr.: 54182682
Chapter1: Epidemiology of Chronic Illnesses: Associations with the Aging Population and Future Socioeconomic Implications.-Chapter2: Modifiability of Longevity and Quality of Life Predictors of Older Adults.-Chapter3: Biopsychosocial Rehabilitation Approaches for Older Adults.-Chapter4: Productive Aging and Work.-Chapter5: Measurement of Gait and Postural Control in Aging.-Chapter6: Musculoskeletal Pain and Disability Disorders.-Chapter7: Aging with Spinal Cord Injury.-Chapter8: Aging with Parkinson's Disease.- Chapter9: Cardiovascular Aging.-Chapter10: Cancer Rehabilitation in Geriatric Patients.-Chapter11: Aging with Brain Injuries.-Chapter12: Mental Health Disorders with Focus on Depression in Adult Populations.-Chapter13: The Mismanagement of Multiple Medications in the Older Adult Population.- Chapter14. Employment Strategies for Older Adults.- Chapter15. Work and Aging: A Review from the Employer's Perspective.- Chapter16. Interdisciplinary Pain and Disability Programs for Older Adults.- Chapter17. Other Pain Management Techniques for Older Adults.- Chapter18. Cardiovascular Rehabilitation.- Chapter19. Exercise Rehabilitation for Older Breast Cancer Survivors.- Chapter20. Rehabilitation after Brain Injuries.- Chapter21. Medication Management in Older Adults: How to Avoid Opioid Abuse.- Chapter22. Non-Pharmacological Management of Symptoms of Dementias and their Prodromes.- Chapter23. Assessment of Competence in Older Adults.- Chapter24. Management of End-of-Life Issues.- Chapter25. Prolonging Independence versus Effects of Institutionalization .- Chapter26. Health and Wellness Programs for Older Adults.- Chapter27. Maintaining Cognitive "Fitness" in Older Adults.- Chapter28. Sex, Gender and Cultural Considerations for Rehabilitation Research with Older Adults.- Chapter29. What Is AARP and Other Non-Profit Organizations That Can Help Older Adults?.- Chapter30. Functional Rehabilitation in Older Adults: Where are We Now and Where Should We be Going?.