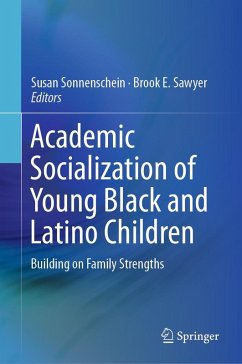 Andere Kunden interessierten sich
auch
für
Topics featured in this book include:
Latino and Black parental resources, investments, and beliefs

Academic socialization in the homes of Black and Latino preschool children

Development of culturally-informed interventions to promote children's school readiness skills

Family-school partnerships as a tool for improving educational opportunities.

Directions for future research

Academic Socialization of Young Black and Latino Children
is a must-have resource for researchers, educators, clinicians and related professionals, and graduate students in diverse fields including education, developmental and school psychology, family studies, counseling psychology and social work, and sociology of culture.
Produktdetails
Artikelnr. des Verlages: 978-3-030-04485-5
1st ed. 2018
Erscheinungstermin: 2. Februar 2019
Englisch
Abmessung: 241mm x 160mm x 20mm
Gewicht: 552g
ISBN-13: 9783030044855
ISBN-10: 3030044858
Artikelnr.: 54298290
Chapter 1. Introduction: The Need to Take a Strengths-Based Approach to Facilitate Children's Educational Growth.- Chapter 2. Latino and African American Parental Resources, Investments, and Socialization Practices: Supporting Toddler's Language and Social Skills.- Chapter 3. Concerted Cultivation among Low-Income Black and Latino Families.- Chapter 4. Contexts of African American Children's Early Writing Development: Considerations of Parental Education, Parenting Style, Parental Beliefs, and Home Literacy Environments.- Chapter 5. Parent- and Preschool-Teacher-Perceived Strengths among Black and Latino Boys in Miami: Links to Early Success in Elementary School.- Chapter 6. Latino Families and Schools: Identifying Challenges and Highlighting Strengths to Support Children's Early Learning.- Chapter 7. Intersectionality as a Framework for Understanding School Involvement and Advocacy Beliefs of Latina/o Families of Young Children.- Chapter 8. Little Talks: A Modular Treatment Approach for Promoting Infant and Toddler Language Acquisition Through Parents' Preferences and Competencies.- Chapter 9. Madres Educando a Sus Niños: Integrating Culture into Intervention.- Chapter 10. Towards Improving the Educational Opportunities for Black and Latinx Young Children: Strengthening Family-School Partnerships.- Chapter 11. Academic Socialization in the Homes of Black and Latino Preschool Children: Research Findings and Future Directions.