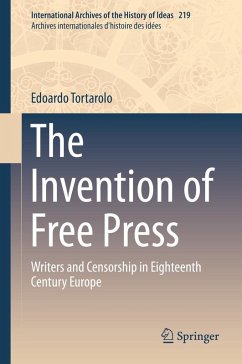 Produktdetails
International Archives of the History of Ideas Archives internationales d'histoire des idées 219
Verlag: Springer Netherlands
Artikelnr. des Verlages: 978-94-017-7345-4
1st ed.
Erscheinungstermin: 17. März 2016
Englisch
Abmessung: 241mm x 160mm x 18mm
ISBN-13: 9789401773454
ISBN-10: 9401773459
Artikelnr.: 43181290
Introduction: 1. Internalist censorship, externalist censorship 2. Europe and Asia: to what extent were they different?.- Was control inescapable?: 1. Two paradigms 3. The dream of the perfect repression 3. Internal fissures.- The difficult victory of freedom of the press in England: 1. From censorship to freedom of the press 2. From freedom of the press to the principle of self-restraint.- The functional ambiguity of censorship and French Enlightenment: "We live in a country where licence does not prevail" 2. Montesquieu's paradox 3. Practice and theory of the press 3. Devotion to the truth: d'Holbach, Diderot, Voltaire 4. Rousseau: self-censorship 5. Condorcet and the radical commitment to the public interest.- The censors as protectors of freedom of the press: 1. Malesherbes and the self-refashioning of the Librairie 2. The world of the royal censors 3. Attempts at dialogic censorship 4. "Freedom to think and write" and economic progress.- Misunderstandings and new meanings: 1. The "policy of the book" in Europe 2. The end of the paradigm of functional ambiguity and participated freedom.
"Tortarolo (humanities, Univ. of Eastern Piedmont, Italy) has produced a welcome addition to the rapidly growing literature on book and censorship history. He provides an excellent summary of the growing controversy over censorship amid the 18th-century Enlightenment, including the views of such luminaries as Thomas Hobbes, John Milton, Marie-Jean de Condorcet, Baron Paul d'Holbach and (French censor) Lamoignon de Malesherbes. ... Summing Up: Recommended. Upper-division undergraduates and above." (R. J. Goldstein, Choice, Vol. 54 (3), November, 2016)