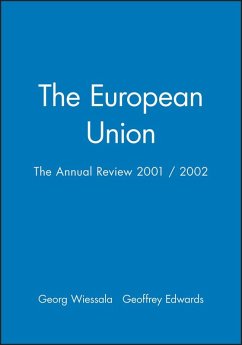 Produktdetails
Journal of Common Market Studi Nr.9
Verlag: PAPERBACKSHOP UK IMPORT
2001-2002
Seitenzahl: 200
Erscheinungstermin: Oktober 2002
Englisch
Abmessung: 234mm x 151mm x 14mm
Gewicht: 331g
ISBN-13: 9781405105385
ISBN-10: 1405105380
Artikelnr.: 21619306
Editorial: Geoffrey Edwards.

1. Keynote Article: 11 September and the Challenge of GlobalTerrorism to the EU as a Security Actor: Monica Den Boer and JorgMonar.

2. Institutions and Governance 2001-2 - Desmond Dinan.

3. Dull but Successful - the Swedish Presidency: OleElgstrom.

4. The Belgian Presidencies of 2001: Bart Kerremans and EdithDriekens.

5. Internal Policy Developments: Hussein Kassim.

6. 'One Careful Driver from New': Earning the ECB'sNo-Claims Bonus: Massimo Beber.

7. Legal Developments: Jo Hunt.

8. External Policy Developments: David Allen and MichaelSmith.

9. Enlarging the European Union: Julie Smith.

10. Justice and Home Affairs: Jorg Monar.

11. Developments in the Member States: Lee Miles.

12. Developments in the Economies of the European Union: NigelGrimwade.

13. Chronology: The European Union in 2001: Georg Wiessala.

14. Books on European Integration: Brian Ardy and JackieGower.

Index.