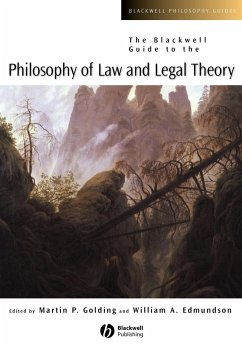 Andere Kunden interessierten sich
auch
für
"Golding and Edmundson have assembled many of the mostluminous figures in legal theory to write deep and totally originalessays on a variety of central jurisprudential topics. The authorsare the right people writing on the right subjects, and this bookis likely to become a standard source for many years tocome."
Frederick Schauer, Harvard University
"In addition to offering excellent introductions to thecentral topics of legal philosophy, the articles in this volume arein their own right distinguished scholarly contributions to thefield. Students and specialists alike will find the book to be ofgreat interest."
Stephen Perry, New York University School of Law
"This is a Guide that actually guides. All thecontributors provide excellent routemaps, sometimes across verytricky terrain. At the same time, many of the contributors open upnew paths and new vistas. The result is a book that works at morethan one level: accessible secondary literature for those justmastering the subject as well as challenging primary literature forthose already steeped in it."
John Gardner, University of Oxford
"Convincing, lively, coherent, applied, unpretentious, eventhough within a predominantly western paradigm, this guide is realvalue for money. It is a guide not just to facts and ideas but alsoto method; in addition it will serve as a portal for collectionmanagers to a wide range of must-haves for the library."
Stuart Hannabuss,
Aberdeen Business School, Aberdeen