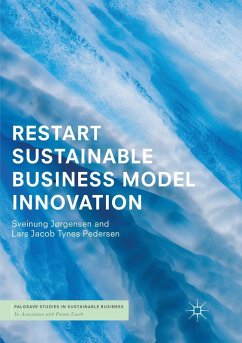 Andere Kunden interessierten sich
auch
für
Produktdetails
Palgrave Studies in Sustainable Business In Association with Future Earth
Artikelnr. des Verlages: 978-3-030-06338-2
Softcover reprint of the original 1st ed. 2018
Seitenzahl: 280
Erscheinungstermin: 8. Januar 2019
Englisch
Abmessung: 213mm x 152mm x 17mm
Gewicht: 369g
ISBN-13: 9783030063382
ISBN-10: 3030063380
Artikelnr.: 57134603
PART I: WHAT'S THE PROBLEM?

Chapter 1: Why sustainable business model innovation?

Chapter 2: The seven steps of the RESTART framework

Chapter 3: RESTART: what, why, how and so what?

3.1 Responsibility and opportunity

3.2 Sustainable and profitable

3.3 The next step: aligning financial, social and environmental bottom-lines

PART II: THE RESTART FRAMEWORK

Chapter 4: Roadmap to a RESTART

Chapter 5: Redesign rather than standstill

5.1 The business model as the story of how the company works

5.2 Redesigning business models

Chapter 6: Experimentation rather than turnaround

6.1 The science of profitability

6.2 Asking the right questions

Chapter 7: Service-logic rather than product-logic

7.1 At your service

7.2 Access to everything

Chapter 8: The circular rather than the linear economy

8.1 The future goes in circles

8.2 Resources astray

Chapter 9: Alliances rather than solo-runs

9.1 Unite and collaborate!

9.2 Creating and sharing value

Chapter 10: Results rather than indulgences

10.1 With an eye on the ball

10.2 Prioritize what matters

Chapter 11: Three-dimensionality rather than one-dimensionality

11.1 Take the lead

11.2. Building a better world

Chapter 12: RESTART before it is too late

PART III: IMPLICATIONS AND FUTURE RESEARCH

Chapter 13: A recap of the RESTART framework

Chapter 14: A process model for sustainable business model innovation

Chapter 15: Avenues for future research

Chapter 16: Case study: A RESTART for Scanship

Chapter 17: Case study: A circular business model for Orkla and BIR?