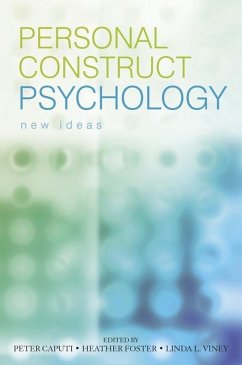 Andere Kunden interessierten sich
auch
für
---
Dieser Download kann aus rechtlichen Gründen nur mit Rechnungsadresse in A, D ausgeliefert werden.
Produktdetails
Verlag: John Wiley & Sons
Seitenzahl: 358
Erscheinungstermin: 02.10.2006
Englisch
ISBN-13: 9780470030219
Artikelnr.: 38206547
About the Editors.

List of Contributors.

Preface.

Acknowledgements.

SECTION I: THEORY AND HISTORY.

1. Applying personal construct models to work with people(Linda L. Viney).

2. Personal construct therapy and its history in pragmatism(Trevor Butt).

3. Reflections on the "artistic mentality" andpersonal construct psychology (Bill Warren).

4. Personal construct psychology through a poststructurallens (Paula Eustace and Nina Bruni).

5. The joint spatial representation of constructs and elements(Prasuna Reddy and Richard C. Bell).

6. The "inquiring man" in the laboratory (Harald Seelig and Janina Radó).

7. Small steps against the tyranny of distance in isolatedcommunities (Linda L. Viney).

SECTION II: ASSESSMENT AND UNDERSTANDING.

8. Therapeutic artistry: evoking experiential andrelational truths (Larry M. Leitner).

9. Diversity and multiculturalism in psychotherapy:A personal construct perspective (Derek C. Oliver and Mark W.Schlutsmeyer).

10. Making sense of dementia (Sally Robbins and MikeBender).

11. Psychotherapists' theoretical orientations aselaborative choices (David A. Winter, Finn Tschudi and NicholasGilbert).

12. A personal construct theory view of professional identity(Julie Ellis).

SECTION III: PROBLEMS OF LIVING.

13. Trust and dependency in younger and older people (NicoleG. Rossotti, David A. Winter and Mary H. Watts).

14. THC and PCP: factors maintaining cannabis use in people withand without psychosis (Bob Green).

15. Counselling after sexual assault: a personal construct modelof the impact of counsellors' responses to client disclosure(Carole Carter and Linda L. Viney).

16. Role relationships and the restoration of coherence in thestories of women diagnosed with breast cancer (Lisbeth G. Laneand Linda L. Viney).

17. A hygienic process? Researcher and participants construingeach other's worlds (Alessandra Iantaffi).

SECTION IV: EVIDENCE-BASED INTERVENTIONS.

18. Menopause: the start of change (Heather Foster and LindaL. Viney).

19. When the unreal becomes real: an evaluation of personalconstruct group psychotherapy with survivors of breast cancer(Lisbeth G. Lane and Linda L. Viney).

20. Personal construct group work with troubledadolescents (Deborah Truneckova and Linda L. Viney).

SECTION V: OTHER INTERVENTIONS, CLINICAL ANDEDUCATIONAL.

21. Tapping into pre-service teachers' perceptions ofsuccessful language teachers: A repertory grid approach (PamelaLeung).

22. Movement in personal change: the practice of dance therapy(Sabrina Cipolletta).

23. The posture of anticipation: Kelly and Alexander (DavidM. Mills).

24. The art of writing: embodiment and pre-verbal construing(Vivien Burr).

Index.