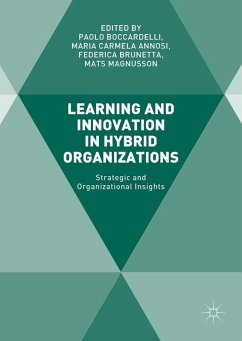 Andere Kunden interessierten sich
auch
für
---
Dieser Download kann aus rechtlichen Gründen nur mit Rechnungsadresse in A, B, BG, CY, CZ, D, DK, EW, E, FIN, F, GB, GR, HR, H, IRL, I, LT, L, LR, M, NL, PL, P, R, S, SLO, SK ausgeliefert werden.
Produktdetails
Verlag: Springer-Verlag GmbH
Erscheinungstermin: 04.10.2017
Englisch
ISBN-13: 9783319624679
Artikelnr.: 52998325
Biotech R&D: Configuration and Impact on Knowledge Development; Mats Magnussion, Daniele Mascia and Fausto Di Vincenzo.- 8. Professional Networks and the Diffusion of Medical Technologies: An Empirical Study on Robotic Surgery; Valentina Iacopino, Daniele Mascia, Alberto Monti and Americo Cicchetti.- Part III. Adapting Innovation and Learning to Strategic and Organizational Change.- 9. Between Sponge and Titanium Designing Micro and Macro Features for the Resilient Organization; Luca Giustiniano and Franca Cantoni.- 10. Issues of Control in Hybrid and 'New' Organizations; Maria Carmela Annosi and Federica Brunetta.- 11. Investigating the Impact of Agile Control Mechanisms on Learning in Scrum Teams; Maria Carmela Annosi, Antonella Martini and Mats Magnusson.- 12. Improviding Agility: Organizations as Structured-Extemporaneous Hybrids; Luca Giustiniano, Miguel Pina e Cunha, Pedro Neves and Armènio Rego.- 13. The Emergence of New Organization Designs from Self-Managed Team-Based Organizations; Maria Carmela Annosi, Luca Giustiniano, Federica Brunetta and Mats Magnusson.- 14. Lean Start-Up in Established Companies: Potentials and Challenges; René Chester Goduscheit .- 15. Lesson Learned, Implications and Summary of Future Avenues of Research; Federica Brunetta, Maria Carmela Annosi, Paolo Boccardelli and Mats Magnusson.