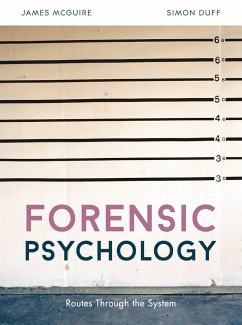 Andere Kunden interessierten sich
auch
für

This text will be core reading for upper level undergraduates and postgraduates studying forensic psychology, either as a module on a BSc Psychology degree or on an MSc for trainee Forensic Psychologists. It will also be ideal for early career practitioners.


Produktdetails
Artikelnr. des Verlages: 978-0-230-24909-7
1st ed. 2018
Erscheinungstermin: 23. April 2018
Englisch
Abmessung: 259mm x 195mm x 40mm
Gewicht: 1318g
ISBN-13: 9780230249097
ISBN-10: 0230249094
Artikelnr.: 48873868
PART ONE: BASIC CONCEPTS, METHODS AND THEORY.- 1. Setting the scene.- 2. Defining and surveying crime.- 3. Researching crime: methods and correlates.- 4. Explaining criminal offences and patterns.- 5. Criminal acts and actors.- PART TWO: TYPES OF CRIME AND INFLUENCING FACTORS.- 6. Serious Violence: Assault and hate crimes.- 7. Serious crime: Single victim homicide.- 8. Extreme violence: multiple homicide.- 9. Sexual offences and partner assault.- 10. Substance-related offending and other serious crimes.- 11. Mental disorder and crime.- PART THREE: INVESTIGATION, EVIDENCE AND SENTENCING.- 12. Police investigation and interviews.- 13. Profiling: methods and results.- 14. Court processes and legal decision making.- 15. Evidence: witnesses, experts and juries.- 16. Sentencing: principles and procedures.- 17. After sentencing.- PART FOUR: PROFESSIONAL ACTIVITIES, STANDARDS AND SKILLS.- 18. Assessment in forensic psychology.- 19. Interventions to reduce re-offending.- 20. Ethical issues in practice.- 21. Professional training, competence and expertise.